Settings for the Timesheet Mobile smartphone app are now linked and controlled from within your Timesheet Mobile account.  This puts company administrators and managers in control of the Timesheet Mobile app user experience.  To know more about Punch settings and how they work, see the following information.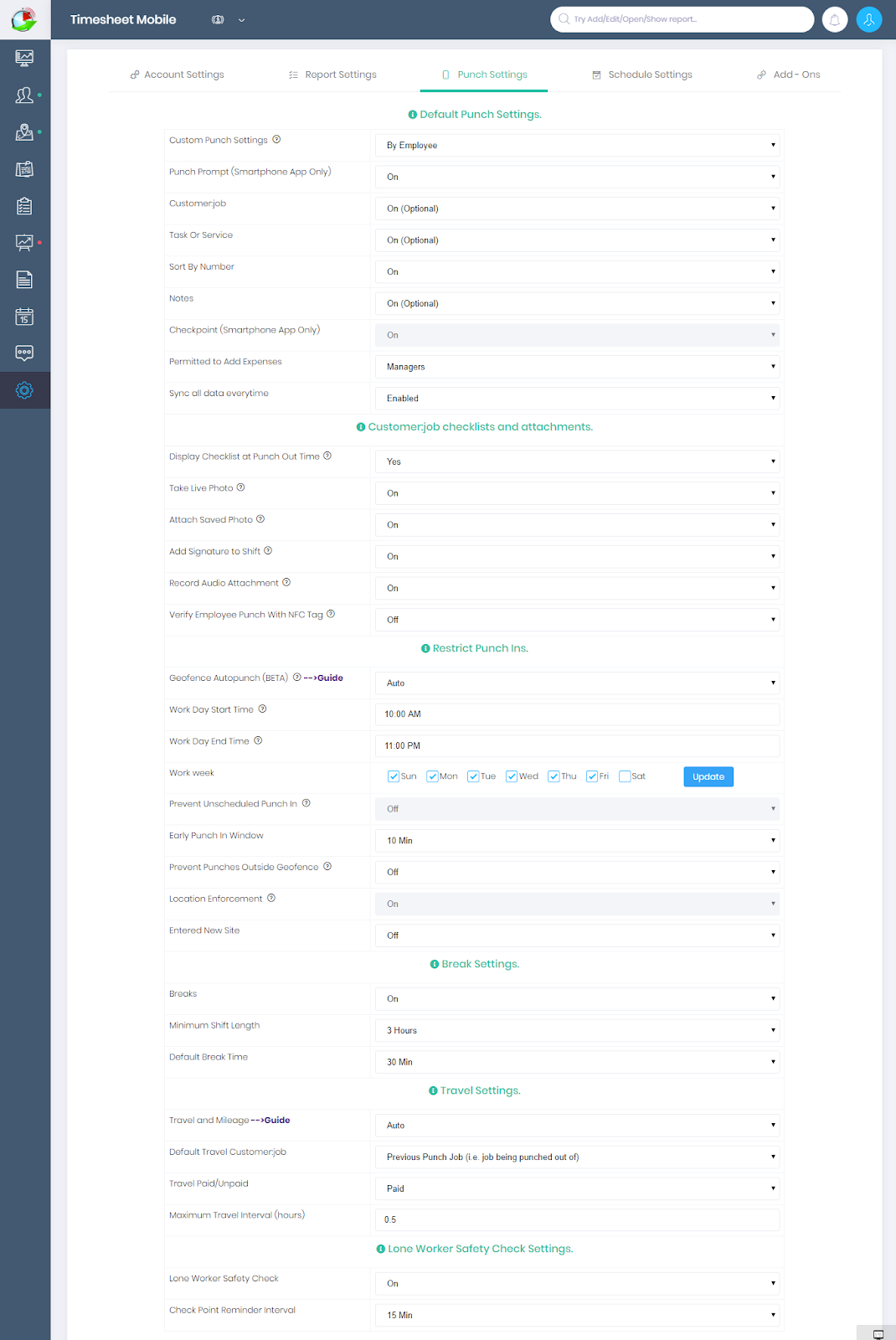 Default App Settings:
Custom Punch Settings -

App settings can now be customized for individual employees (or entire workgroups).  See Customize App Settings by Employee
You can choose whether to display or hide customer: job, Task, notes.  See Require Employees to Choose a Customer or Job, Enter Notes and/or Mileage
Punch Prompt – When this is enabled, users will be notified when a punched-in employee left/re-enters a worksite geofence (there are many more useful prompts). See Punch Prompt - Left Site and Re-entered Site

Check Point -

The Timesheet Mobile Check Point feature is the mechanism for workers to provide the status check of the task or job given to them and will automatically be enabled when lone working is enabled.

Permitted to add Expenses – If this setting is set to Managers, only managers will be allowed to add expenses.  If set to Employees, employees can also add expenses to the job on which they worked.
Customer:job, Checklists & Attachments:
Display Checklists at Punchout Time – By enabling this setting Global & individual checklists assigned will be visible to the employee after punching out.

Other Settings:  Take Live Photo, Attach Saved Photo, Add Signature to Shift, Record Audio Attachment, and Verify Employees Punch With NFC Tag
Restrict Punch ins:
Auto Punch Settings - The Timesheet Mobile smartphone app for iPhone and Android can now automatically punch your employees in/out of jobs when they enter/leave designated geofence job sites. See Geofence Autopunch - Automatic Punch In & Punch Out
Prevent unscheduled Punches – If this is set to ON, the employee will not able to punch-in to any customer:job in which they are not scheduled. This setting will be automatically set to OFF when Geofence Auto Punch in/out is set to ON.  See Prevent Off Schedule or Unscheduled Punches

Prevent punches Outside Geofence – When this is set to ON, employees will only be able to punch in/out of job sites while inside the geofenced area.  All other job sites will appear greyed out and unselectable.

Location Enforcement - If this set to ON, it will cause the app to check whether location services are enabled when workers punch in/out and prevent them from punching in/out if they have disabled location services on their smartphone and asks them to enable location services. See Use Location Enforcement to Require Location Services When Punching In/Out
Break Settings:  Timesheet Mobile now enables an easy and effective way to enter unpaid break time with the click of a button:  Break Prompt. Enable this feature, set the minimum shift before a break can be taken, set the default break length for your company, and then instruct your employees to sync their Timesheet Mobile app to update their settings.  After syncing to receive the settings, employees who work a shift longer than the minimum shift specified will receive a Break Prompt to indicate what time their break started and can enter it with the click of a button.  Employees are able to override the default break length if they took a longer or shorter break and also have the option to skip the break if they did not take one. See Break Prompt
Travel Settings: Stand alone, or in conjunction with Geofence Autopunch (see Geofence Autopunch - Automatic Punch In & Punch Out), Timesheet Mobile can now auto-populate the actual time difference between punch out and punch in between geofences.  It will also show the "best route" mileage for their travel punches and flag if the actual travel time took longer than expected. See Automated Travel Time and Mileage
Lone Worker safety check: In situations where workers are performing work alone at locations without any supervision or co-workers nearby, we can provide a periodic status check that the worker is safely performing their required tasks. See Lone Worker Safety Check
When your workers install the Timesheet Mobile smartphone app, the app will start with the settings configured on the App Settings page of your account.  Anytime changes are made to theses settings, app users will receive a notification that the settings have been changed and are reminded to sync their app to update the settings.  The sync process will happen automatically every 2-6 hours when the worker is connected to a data network (4G/LTE or WiFi).