There are a number of different geofence codes in the Timesheet Mobile Activity Log that administrators and managers can use to quickly see where an employee is punching in or out. A user can either be "On Site", which means that the location for the punch was within the geofence, or "From Site" some distance away, which is noted. Sometimes users have no data signal or have not been assigned a location to punch in/out at. In this case, additional information may be included to help determine what is happening. Here is an example: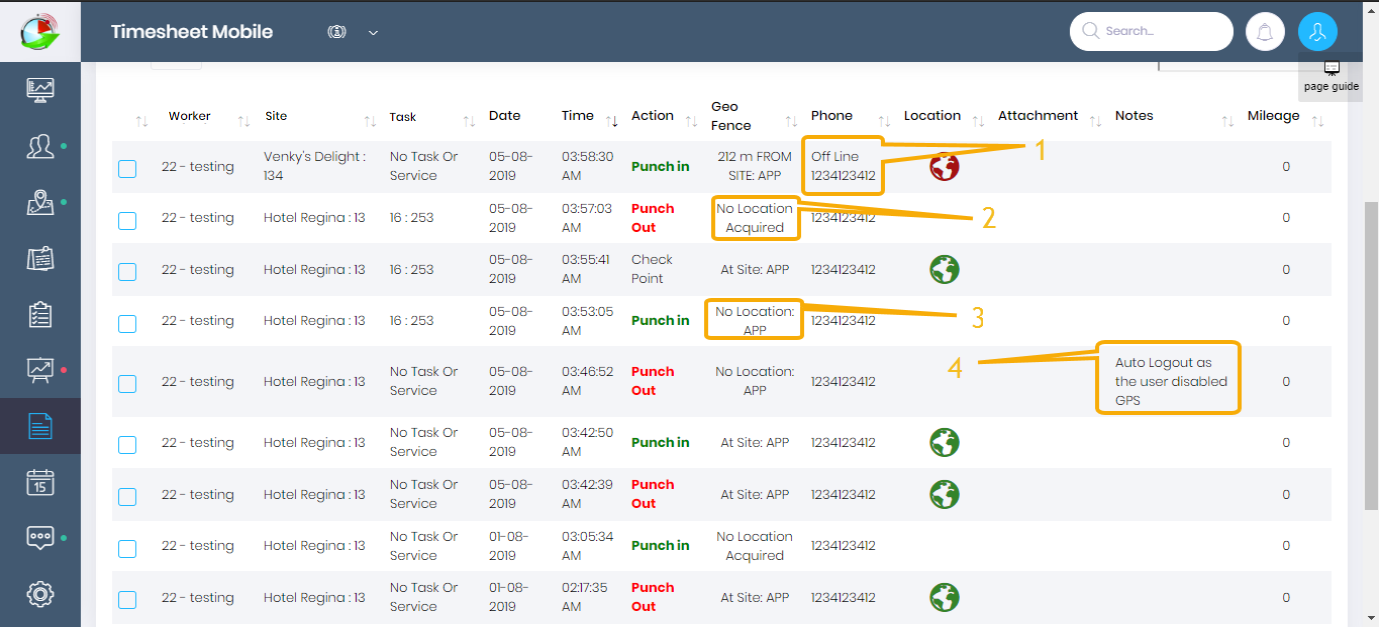 A description of the different codes can be found below:
OFFLINE: When the employee clocks in / out offline (not connected to the internet), the logs are saved in the local storage of their mobile device and uploaded to the server when the device is again connected to an active internet connection. These logs are marked as "offline" in the activity log.

NO LOCATION DETECTED: In the Timesheet Mobile app, the app needs 45 seconds after clocking in or out to get the most precise location from the mobile device. If the location cannot be captured, even after 45 seconds of clocking in / out, it will display "No Location Captured" if the "Location Enforcement" option is disabled in the punch settings. This "No location recorded" can also occur if the employee clocks in or out by switching off the location services on their mobile device.

NO LOCATION APP: Timesheet Mobile takes 45 seconds to get the most accurate location from the mobile device. If the app exits immediately after clocking in or out, the location update will be interrupted and cause a "No Location: APP".

AUTOMATIC PUNCH BECAUSE USER HAS DISABLED GPS: If Location Enforcement is enabled in Punch Settings, employees must enable Location Services (high accuracy mode) on their mobile device. If the employee is punched in and turns off the location services (to save battery or device only), he receives the warning "You will be clocked out in a minute, if you turn off the location services". If the location services are not switched on after one minute, the employee is punched out and receives the message "Punched out automatically because the user has deactivated GPS" in the activity log.

SMARTPHONE GPS OFF: If no location is recorded in older versions of Timesheet Mobile, it will be displayed as "Smartphone GPS OFF" in the activity log. In the latest version, it will show up as either "No Location Captured" or "No Location: APP".
The following are more examples of the status of the activity log. When an employee switches from one job to the next, they click the switch button in the app and their logs are recorded.