Note: This help article pertains only to accounts set to Germany ADP integration.

If an employee has a time account, then overtime and minus hours are recorded in the time account, kept in a running total, where they are added or subtracted during the work month.
Worker
First, designate each employee as a salary or hourly worker.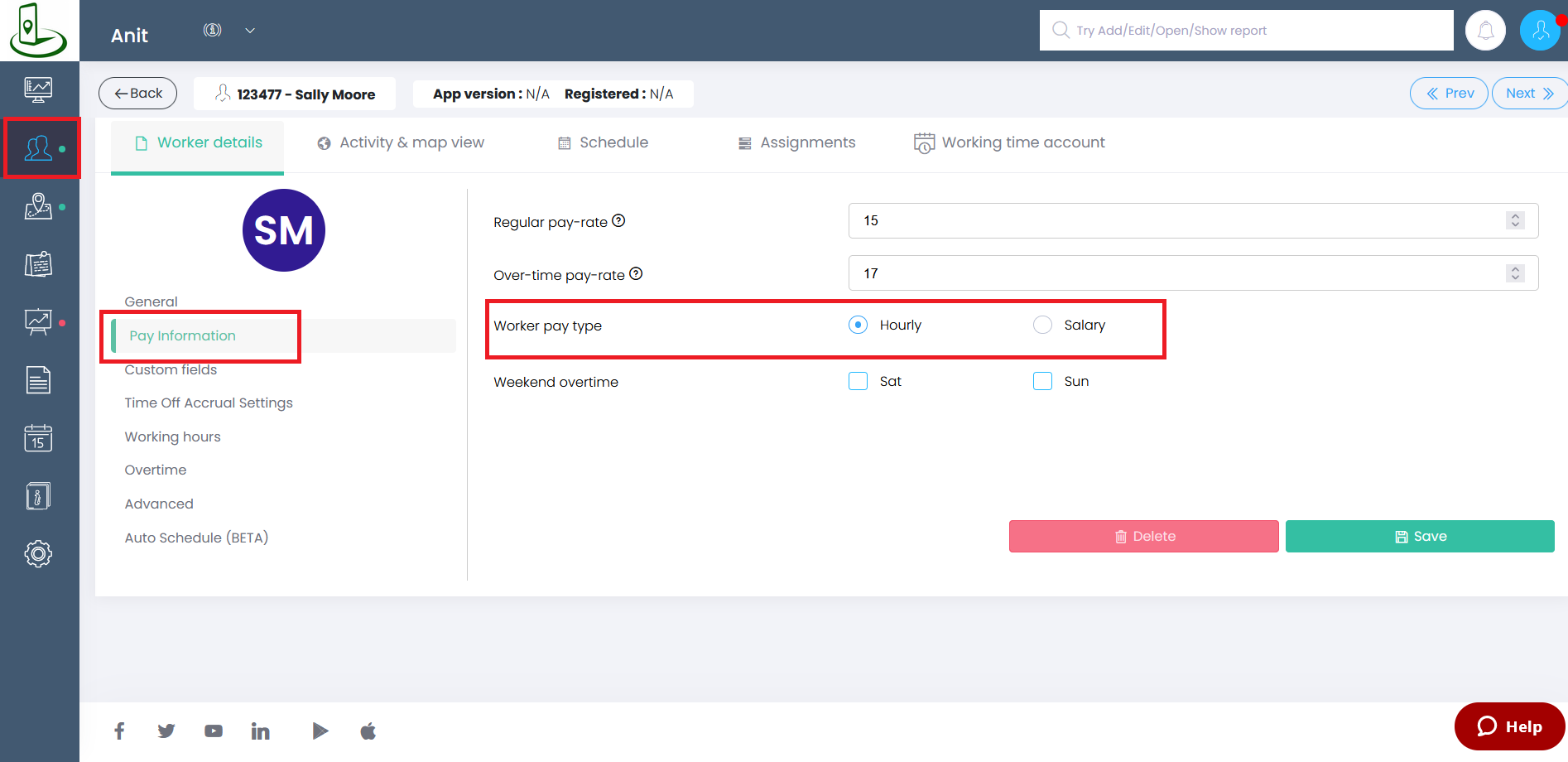 Set up your employees' working hours per week or per month in accordance with their contracts. This is necessary to calculate overtime.
In Worker Details -> Working Hours, if "Working Time Account" is set to "Yes", then the "Working Time Account" tab is available.
Note: In the working time account page, you will not see any data before you approve your first payroll cycle.
You can also adjust the monthly / weekly hours according to the employee contract here.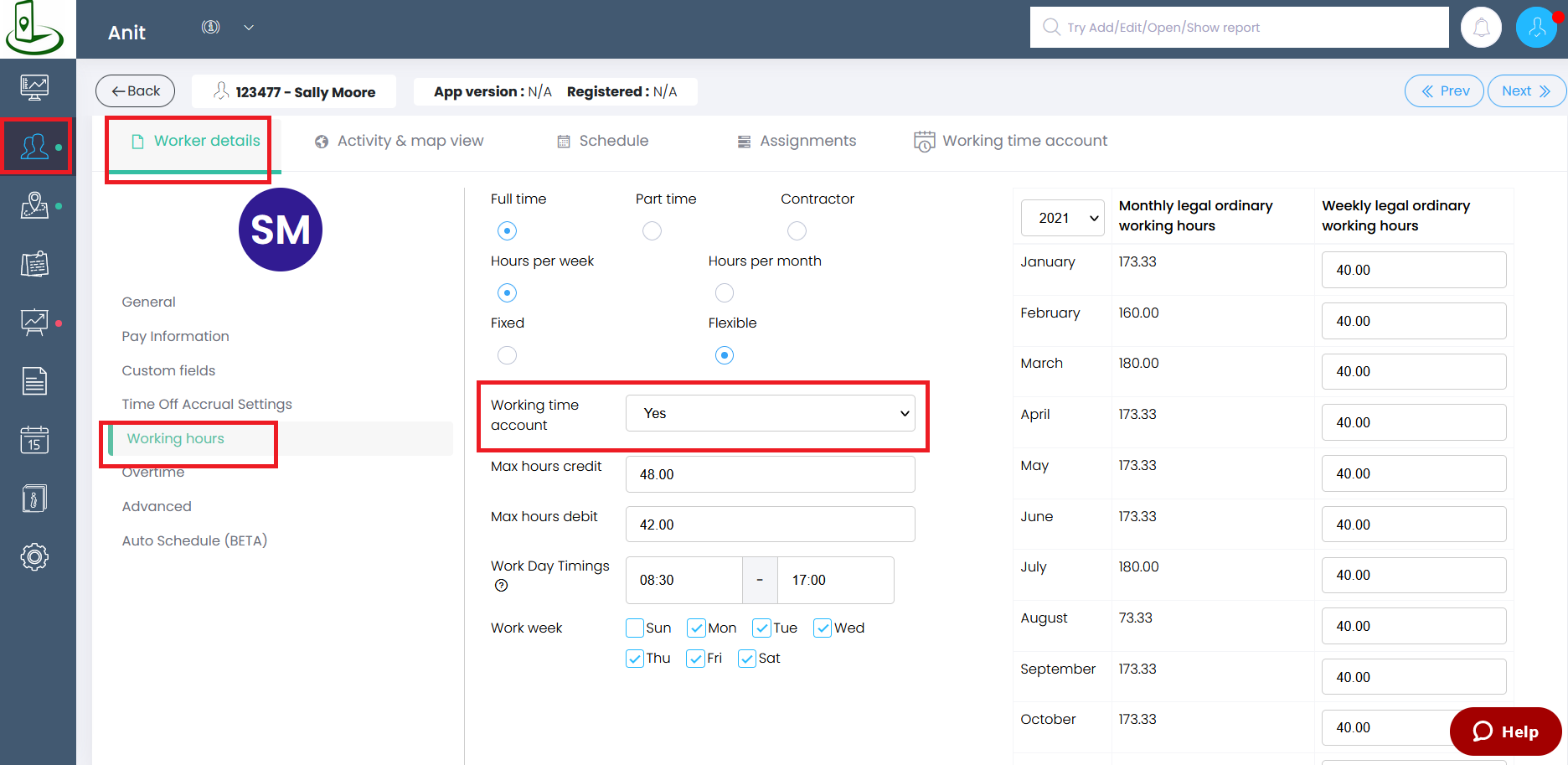 "Max hours credit" means how many hours a worker can go beyond his contractual weekly hours before a message is sent to the manager. 'Max hours debit' works the same.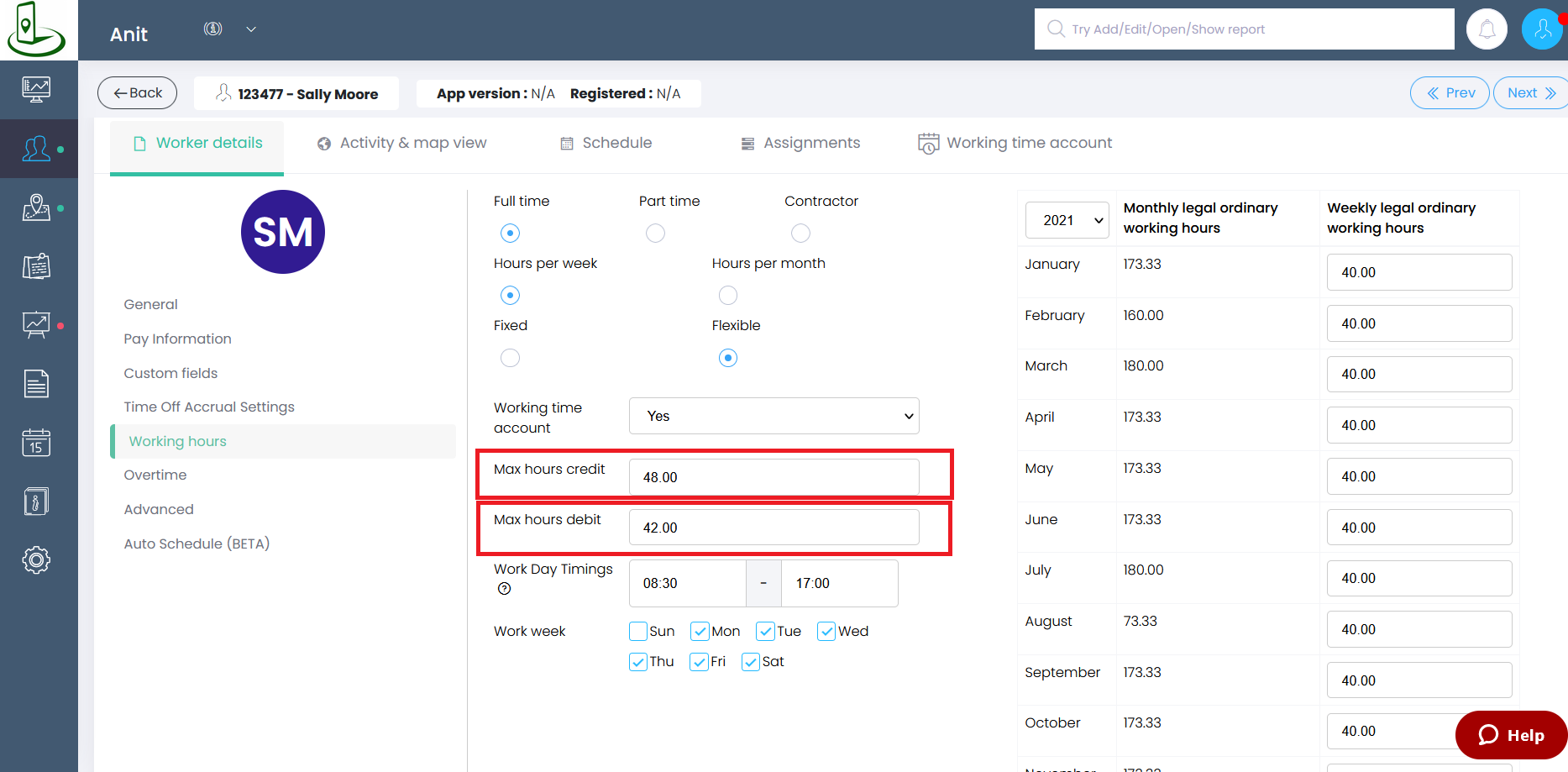 The working time account should be activated, when a worker wants to accumulate their overtime hours and then take compensation days at a future time.
Click on 'Working Time Account' to display the status of the working time account. You can see the minus hours, overtime and the current balance. In the following example, the columns, are marked with the letters A to I.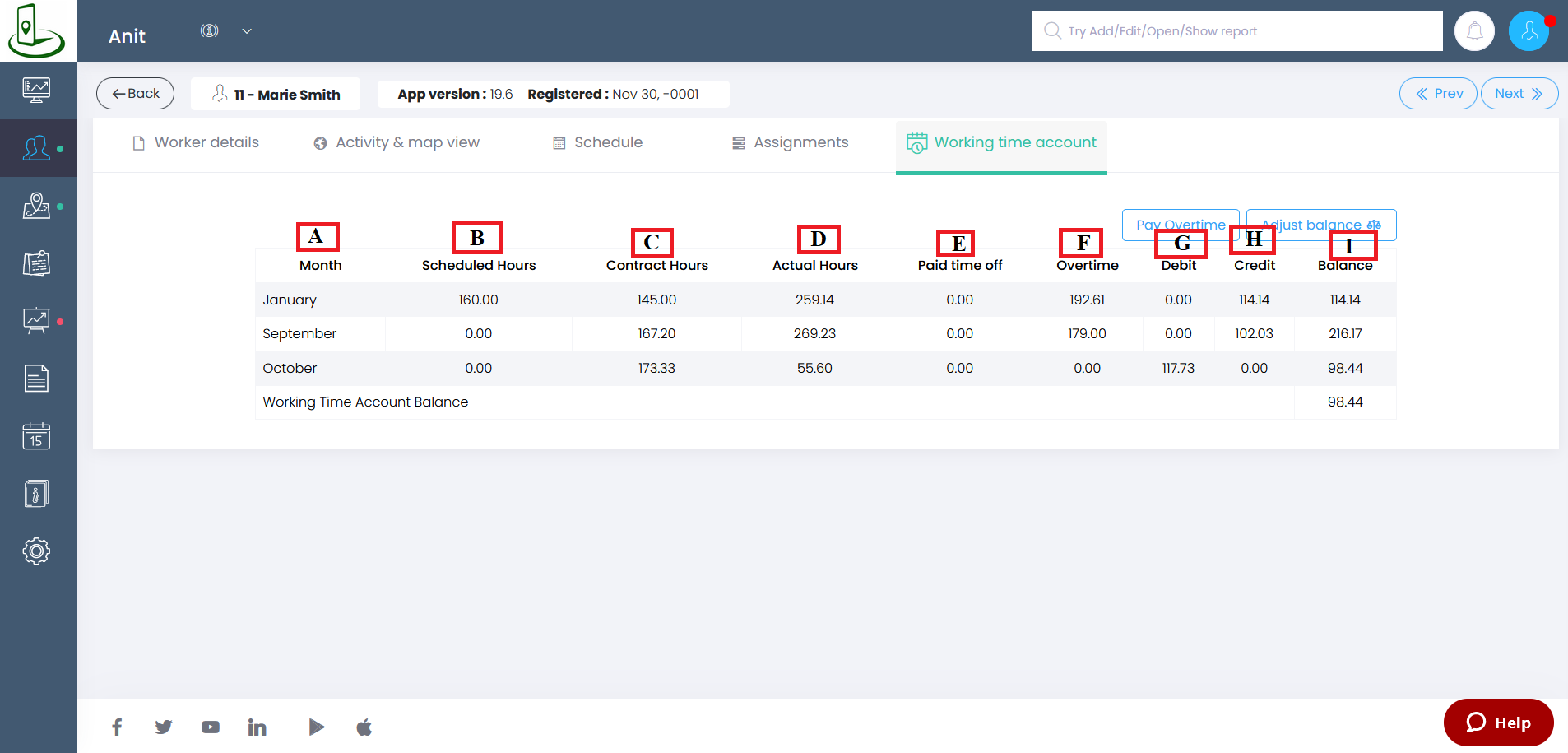 A: Month - is the month these values apply to
B: Scheduled hours - are the hours (in shifts) that are planned for this worker via the planning calendar for the month.
C: Contract Hours - are the contract hours per month.
D: Actual Hours - are the actual hours the worker worked in that month.
E: Paid time off - are the hours for which the employee has been paid for free time, which can be sick time, vacation or holiday.
F: Overtime - is a running total of daily overtime. * see more below.
G: Debit- the number of hours the employee worked, less than their contracted number of hours for the month.
H: Credit: the number of hours that the employee has worked over the contractually agreed number of hours per month.
I: Balance: is the current hourly balance on the employee's time account. This number is adjusted from month to month, whereby overtime is added and minus hours are deducted.
* F: Overtime - detailed explanation
First, this overtime is only used for hourly workers. The use case is as follows:
Worker is paid hourly.
The employee receives his overtime at the end of the month. They are paid in full every month.
Overtime is calculated daily, not weekly or monthly, per hiring.
Example:
Joe works on an hourly basis, has a 40-hour week, he works 8 hours a day, 5 days a week. Here is an example of his work week.
Monday: 8
Tuesday: 8.5
Wednesday: 9
Thursday: 6
Friday: 7
He worked 38.5 hours a week and worked 1.5 hours overtime. Tuesday and Wednesday he worked overtime. Although he worked fewer hours on other days, his daily overtime doesn't balance out over the week and is paid. Column F: Overtime is the sum of daily overtime for the entire month.
If you click on "Adjust Balance" in the Working Time Account tab, you can adjust the time account values. And, the first time you switch from another system like EDTime to Timesheet Mobile, you can bring forawrd any hours from the employee's old time account.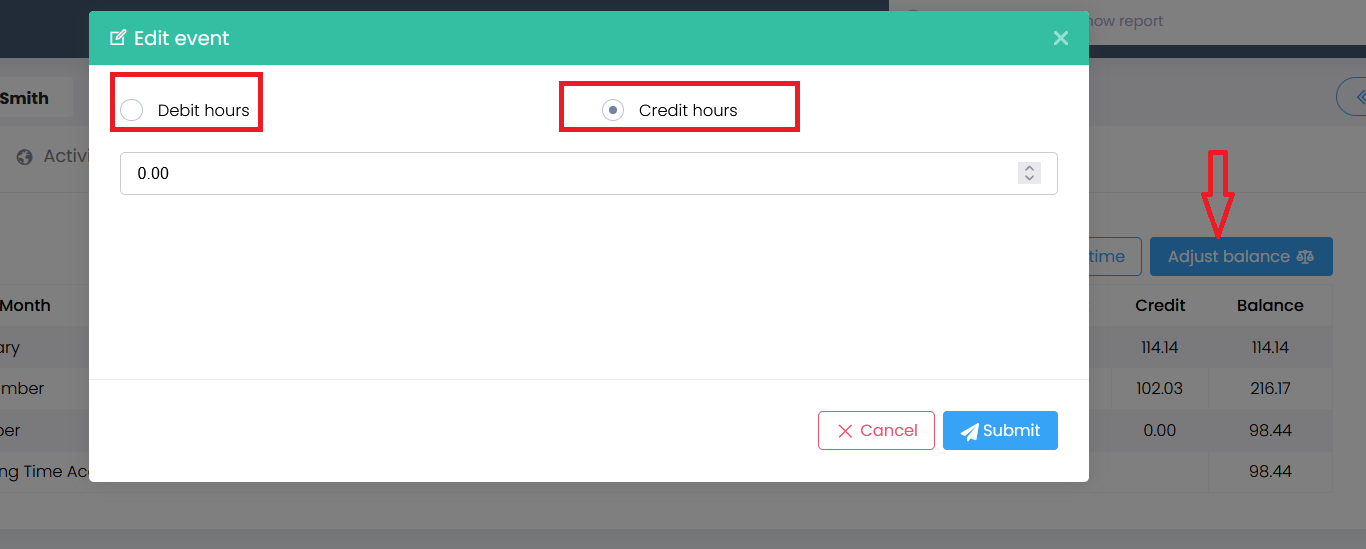 Pay Overtime: Here you can pay overtime from an employee's working time account. The hours will be paid in the next approved billing report.

ADP Report
The report shows workers with overtime paid monthly and those with time accounts.
Worker without a Working Time Account

In the ADP Approved Report, the ADP overtime values are shown in columns L and M. These hours are paid at the end of the month.
Column L contains all overtime, including overtime 1 and overtime 2. M contains only overtime 1.

Worker with a Working Time Account
If a time account is used, the balance is reported to ADP, in columns P and Q, but ignored in relation to payroll. The hours in the time account are not paid for an employee with a time account.

Overtime Settings
If the employee is not being paid daily overtime, these two values should be set to zero as shown below. The employee is then paid overtime calculated on a weekly basis. As it is set in this example, the worker receives overtime if he works more than 40 hours per week.