Timesheet Mobile supports multiple types of timesheet approval designed to streamline the task of running payroll each period. Each period, employees can review and approve their timesheets on their smartphone app or by logging into the web portal. See Employee Approvals for more details.
In addition to employee approvals, managers and administrator level approval is also supported. This optional feature allows for timesheets that have been reviewed and deemed ready for payroll to be approved and protected from having any modifications made. And don't worry, the process is easily undone if a report was approved prematurely.
As part of the manager and administrator approval process, many companies choose to empower their employees with the ability to request changes to the shifts worked, ask for new shifts or time off or delete shifts that were accidental. Allowing employees to correct timesheet mistakes during the work week, as they happen, saves administrative time at the end of the pay period. Company administrators can approve timesheets for any employees, while Workgroup Managers can approve timesheets for those in their workgroup.
Activating Timesheet Approvals
There are two basic settings related to manager and administrator approvals:
Report Settings > Administrator/Manager Timesheet Approvals. When set to Enabled, you will now see Approved Reports under the Reporting menu on the left.
If you would like to allow employees to request timesheet modifications, set Allow Shift Modifications to Enabled. You will now see Pending Logs under the Reports menu on the left.

Submitting Work Time Changes
During the pay period, employee shifts will be captured using the Timesheet Mobile app installed on their smartphone. On the timesheet app, employees can make edits to any shifts up until the time they are approved by a manager. So, if they forgot to Punch out they can fix it on the spot. All worker edits must be reviewed and approved by a manager. Once approved they will be locked and stored in Approved Timesheets tab.
Pending Logs Approval
If employees are allowed to request timesheet changes, before running a timesheet report, managers will have to approve or disapprove these requests. Click on Pending Logs under the Reports menu to view these requests.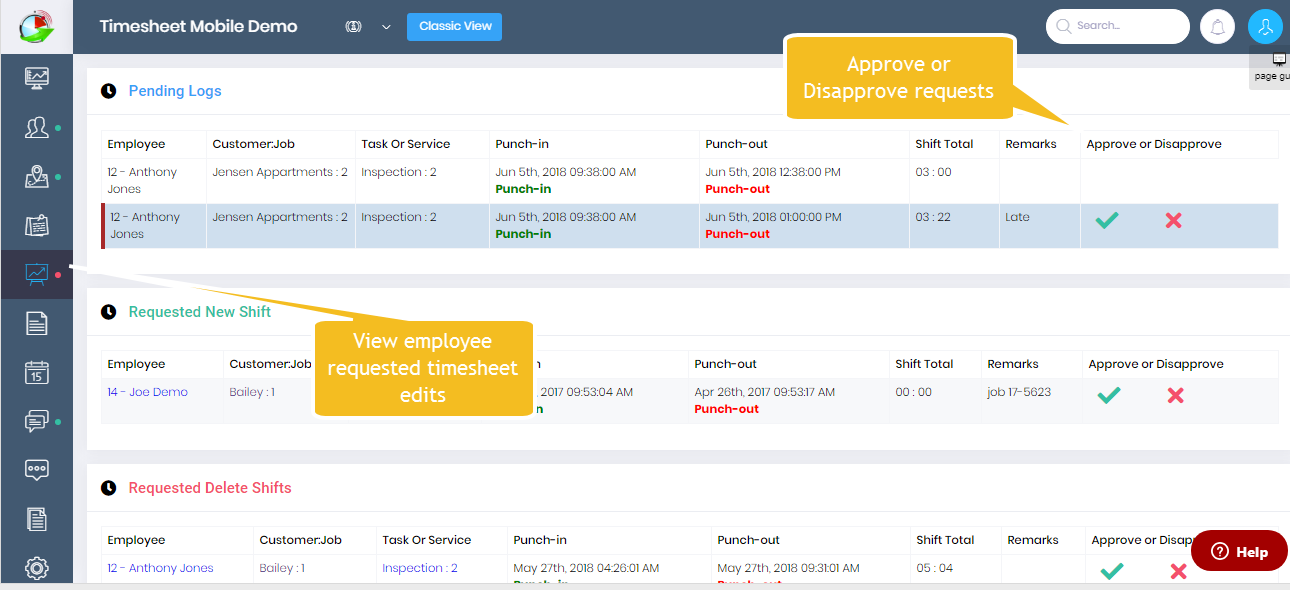 Manager and Administrator Approval Options
When managers and administrators run timesheet reports (see How to Edit Timesheets), there is an option to indicate approval (instead of creating the final approved report). In this way, you can instruct your managers to review and indicate that they have done so by clicking "Indicate approval" as shown below.
Indications of approval will be visible to other managers and administrators who can use this information to decide when to generate the final approved report for all employees instead of creating individual approved reports for each manager's group. See below for how this will look to an administrator.