Timesheet Mobile will periodically update your server software to add new features and fix any outstanding issues. Most of the time, these updates are seamless to the end user since they involve back-end software components that are not cached locally in a browser.
Sometimes the software that is cached by browsers also requires an update. Since Timesheet Mobile cannot force software to an individual browser's cache it is sometimes necessary for the end user to clear the browser cache and reload Timesheet Mobile. A quick way to verify if an issue is related to local cache is to access Timesheet Mobile in an incognito or private window. This forces reload of all software from the server.
If accessing Timesheet Mobile works in an incognito or private window but your normal browser still does not, a second step is forcing a reload of all cached components by pressing and holding the Ctrl key while reloading the page as shown here: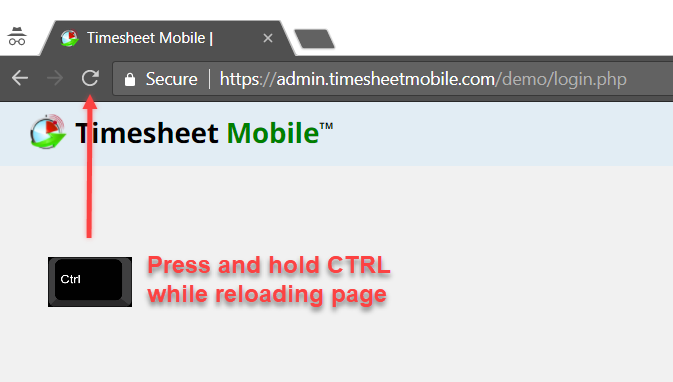 If that does not work, here is how to clear the cache on some popular browsers:
Chrome
https://support.google.com/googleplay/answer/32050?hl=en-GB
Firefox
https://support.mozilla.org/en-US/kb/how-clear-firefox-cache
Internet Explorer
https://support.microsoft.com/en-us/help/17438/windows-internet-explorer-view-delete-browsing-history
Microsoft Edge
https://support.microsoft.com/en-us/help/10607/microsoft-edge-view-delete-browser-history
Of course if all else fails, please contact Timesheet Mobile support and we would be glad to assist.