Project+ is an all-in-one workforce management application integrated with Timesheet Mobile's leading geofence based time tracking system and is included in all subscription plans except the Basics plan. Setting up projects instantly sets up multimedia, real-time, ongoing and archived communication threads accessible by all the workers included in the project. Checklists and PDF attachments help round out the capabilities of the solution. The features included with Project+ can help improve the management of company workflows and dynamic workforces.
Projects
In Timesheet Mobile a project is a set of information that is associated with a site. This information set includes the site, a project title and description and a team of workers selected/assigned to the project. Multiple projects can be associated with each site. See below for a sample list of projects for the site in the Timesheet Mobile Demo account: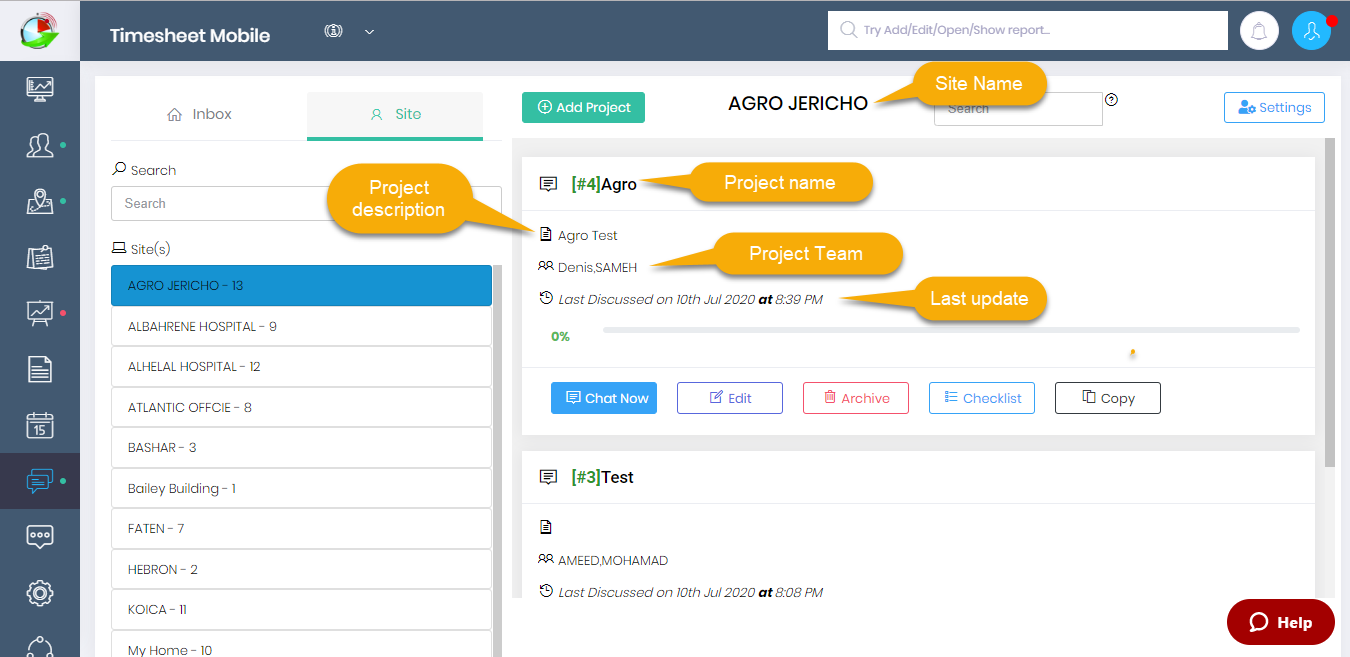 Project Communication Thread
Once created, a project forms a multi-media communication thread that supports real-time chat messaging (with translation capabilities), photo/image uploads and PDF file attachment as well as checklists specific to the project. Team members are notified of important updates (new message, file uploaded, new checklist added, or checklist item(s) completed) in real time removing the need for administrators and managers to search for individual mobile phone numbers or emails to contact workers. See below for a sample project communication thread for the project "Window Replacement" associated with Site in the Timesheet Mobile Demo account: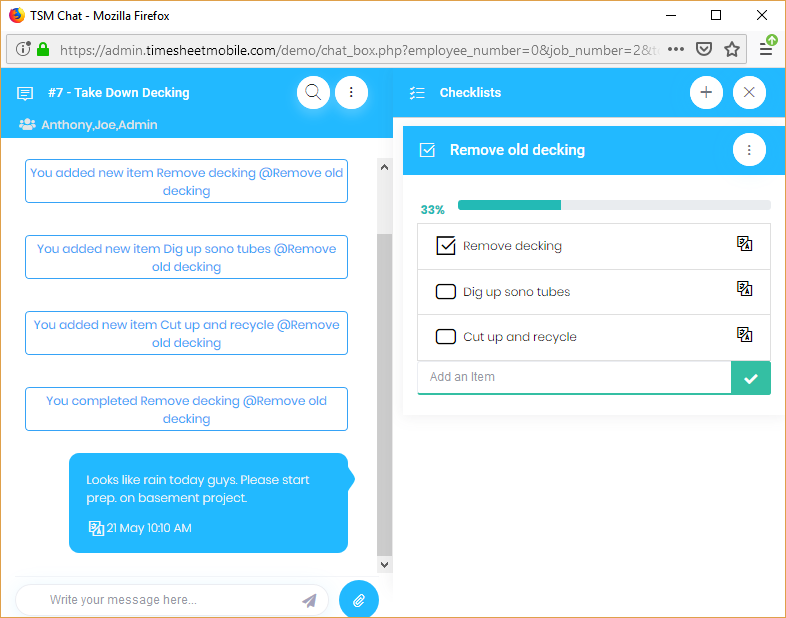 Setting Up Projects
Adding projects can be completed in just a few clicks. Navigate to Project+ in the side menu, click on the site tab, select the site you wish to add a project to and click "Add project".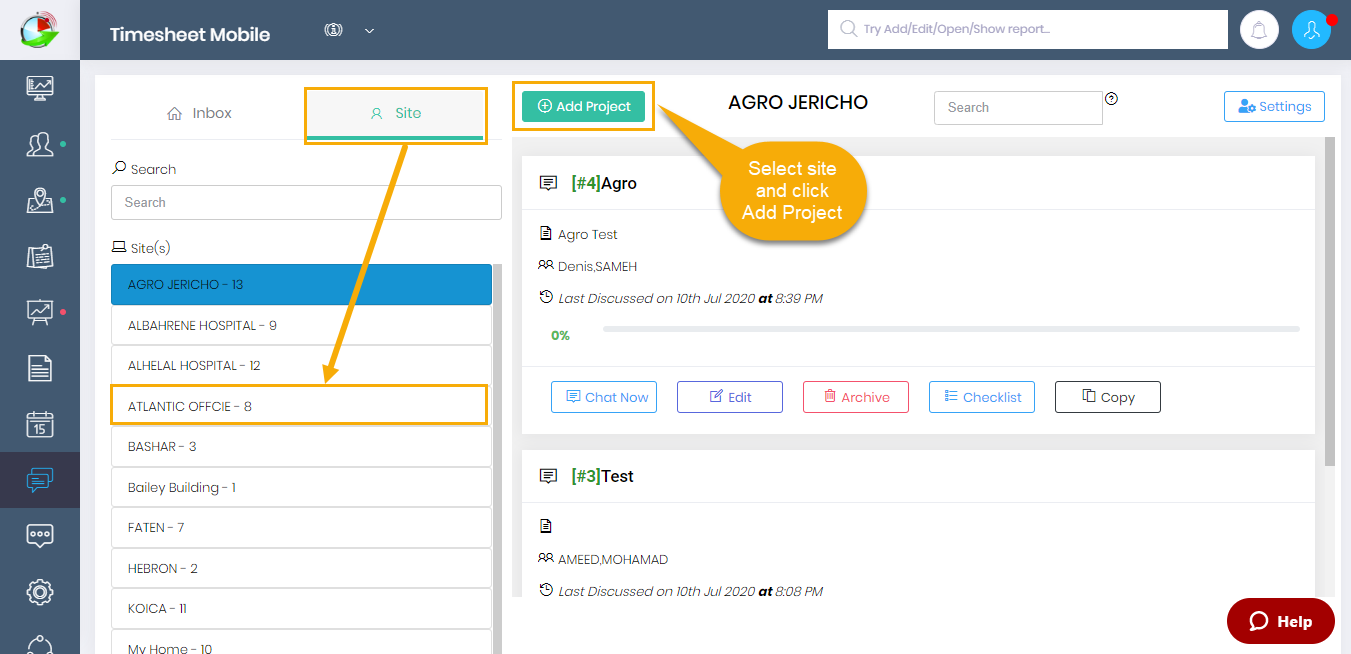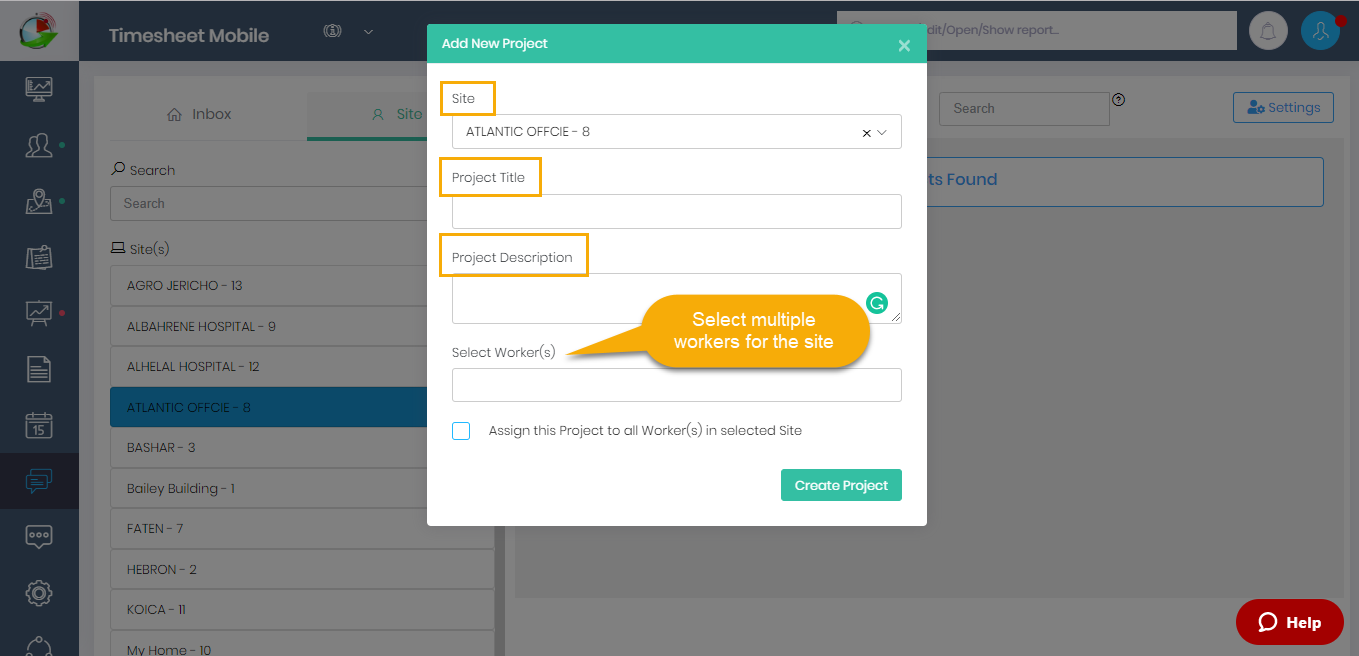 A new Project Card will be created showing the Project Name, Description and Team Members. On the Project Card, you can click the buttons to chat with team and add checklists. The project can be edited or archived when completed.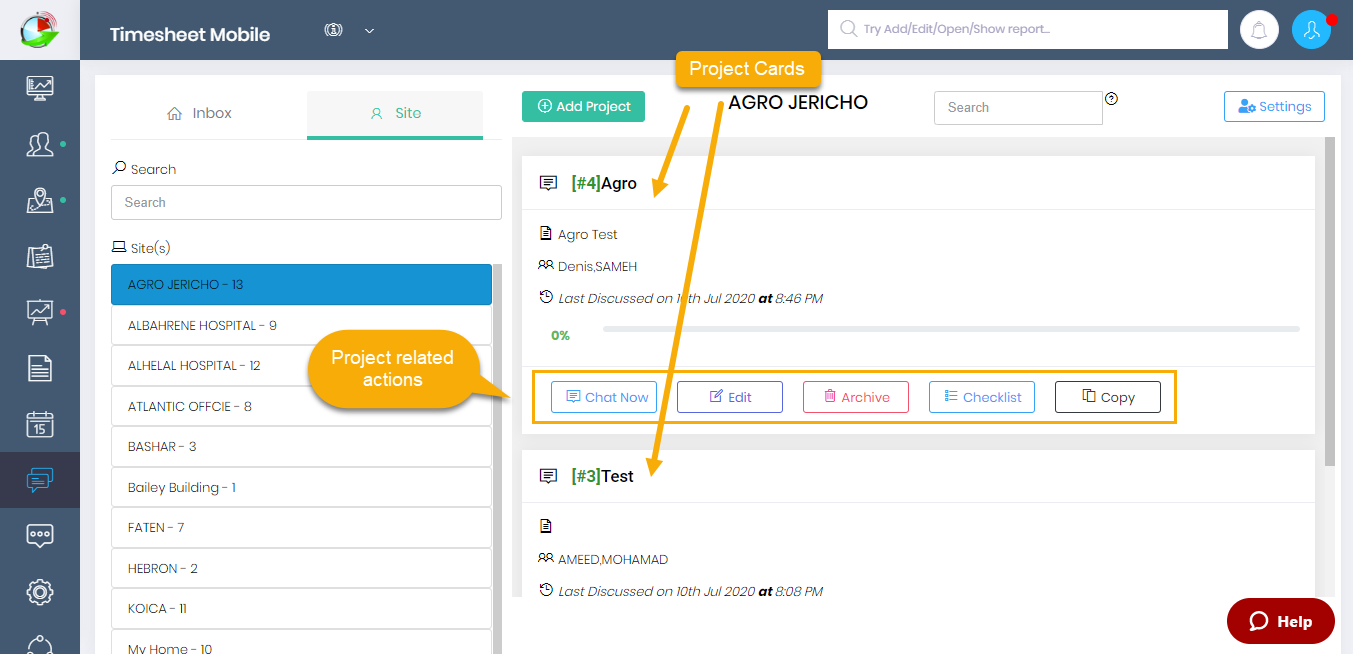 Adding a new checklist to a project or adding items to the checklist can be done quickly. Team members will see new lists and items in their smartphone app immediately.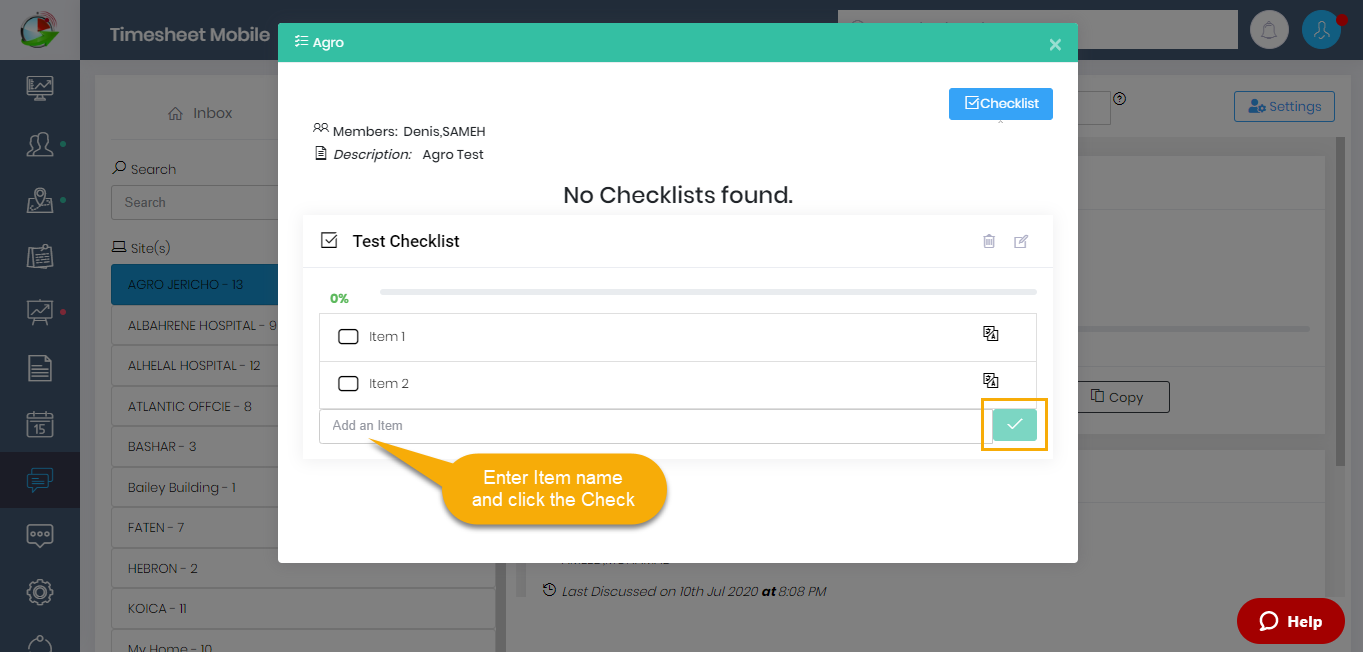 Attach pdf files and specifications for projects. View checklists and see project progress.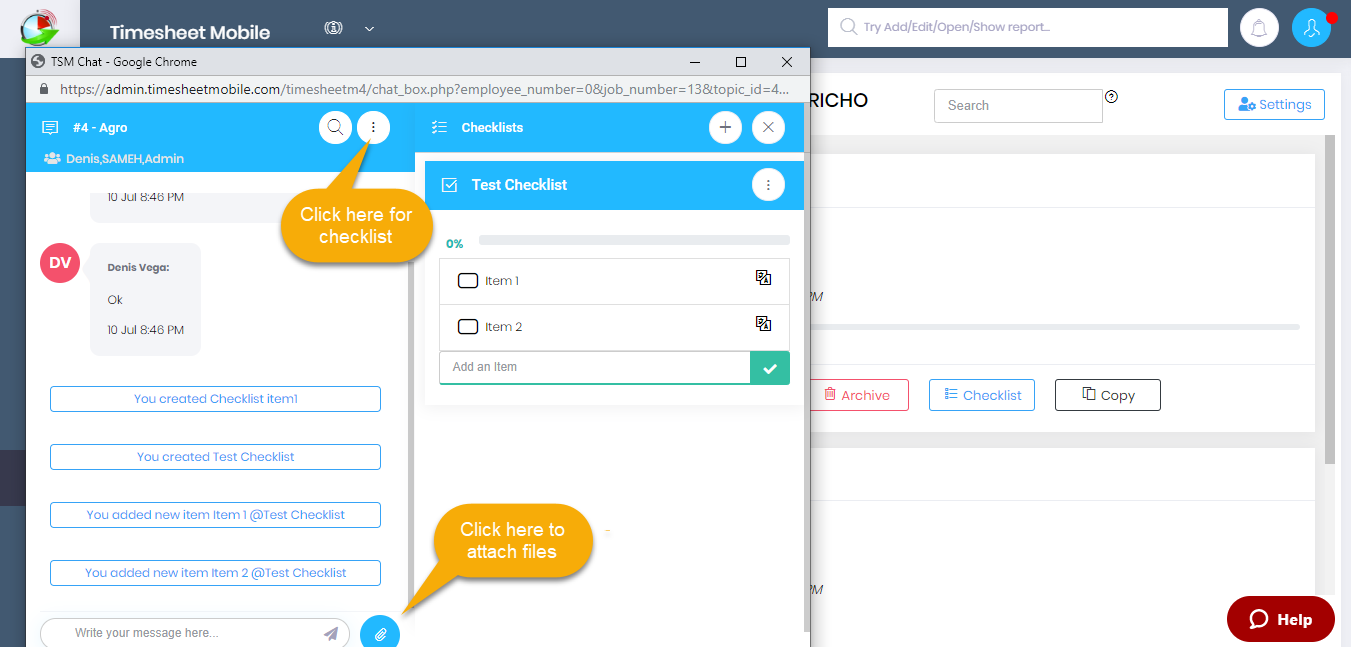 When you send a message, all team members listed will get instant notification on the Timesheet Mobile smartphone app or in their web browser if punching in from the web and will be able to reply, check off checklist items and send photos. Additionally, you can click to translate to English, Spanish, German, or French.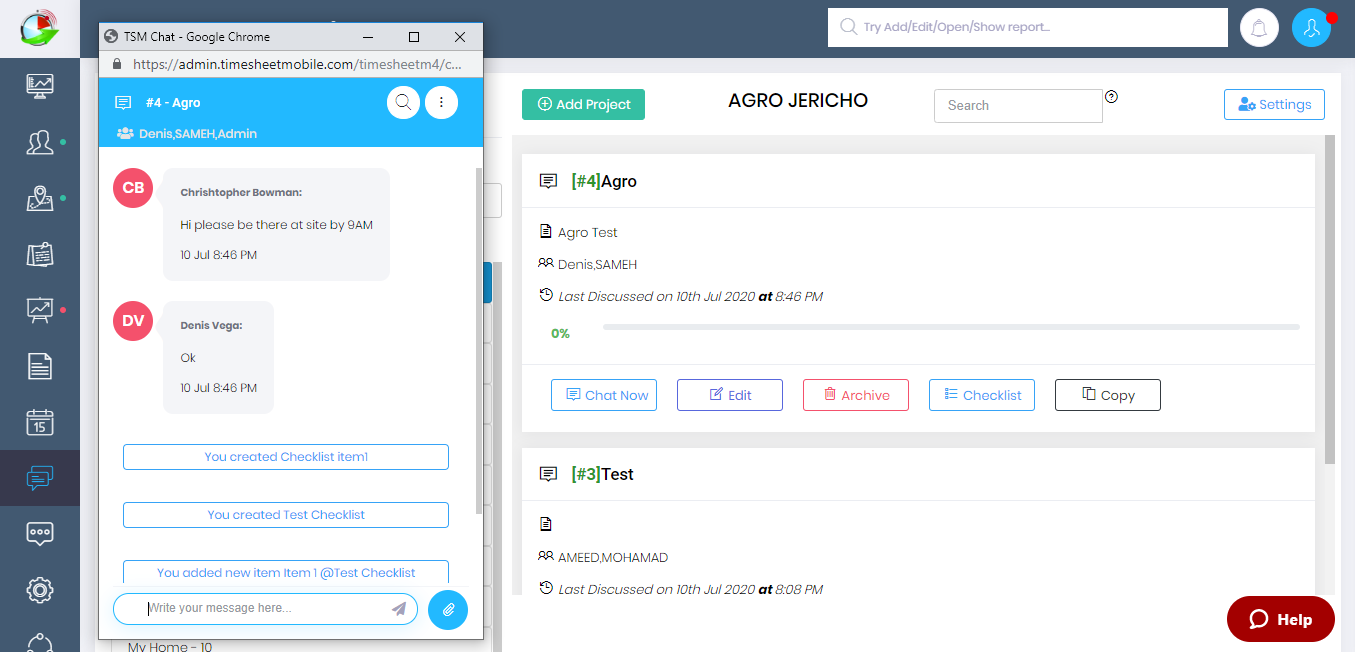 On the Timesheet Mobile App
Staff can check off items on the checklist, respond to instant messages and send photos. Changes and additions are visible to other team members and to managers and administrators on the web or their own smartphone app.
When the worker launches their app, they will click on Project+ in the bottom of the screen. Then a list of projects they have been assigned to will populate. They will click on the > beside the desired list.
From the Project, the worker will see any checklists for that project that have been created. You may have as many checklists for a given project as you need. And, as the worker completes the items and checks them off, a percentage indicator becomes visible.
Enable Project+ in Account
Project+ is an optional feature and can be enabled in the account Add Ons settings as shown below: