App settings can now be customized for an individual Worker (or entire workgroups) beginning with Android app version 23.0 and iPhone app version 11.0. This level of customization extends the power of the Timesheet Mobile smartphone app to a new level.
Do some of your workers need to receive Punch Prompt reminders when entering and exiting geofences but others do not? Maybe you would like some workers to choose tasks while punching in but others only a Site? Now you can configure this for each worker individually or configure it for an entire workgroup at one time.
Here is how to unlock the power of custom app settings:
1. Make sure everyone updates their app to the latest version. Here is how to check what version a particular employee is using: Check App Version for Employee.
2. Navigate your mouse to the blue user icon in the upper right-hand corner and choose Account Settings from the menu. Next, select Punch Settings- Advanced and choose "By Employee" for Custom Punch Settings:

3. To customize the settings for an individual Worker, navigate to the Workers page, open the Control Panel for that worker, and click on the Worker Punch Settings tab. Any changes made here will be reflected in the smartphone app for that employee only after they sync their app (for which a notification will be provided).

4. To customize settings for an entire workgroup of workers, go to the Workgroups page, open the Control Panel for the workgroup and click on the Workgroup Punch Settings tab. Changes made here will be reflected in the smartphone app for all workers in the workgroup. Note that any custom Perworker app settings will be overwritten with the values chosen here.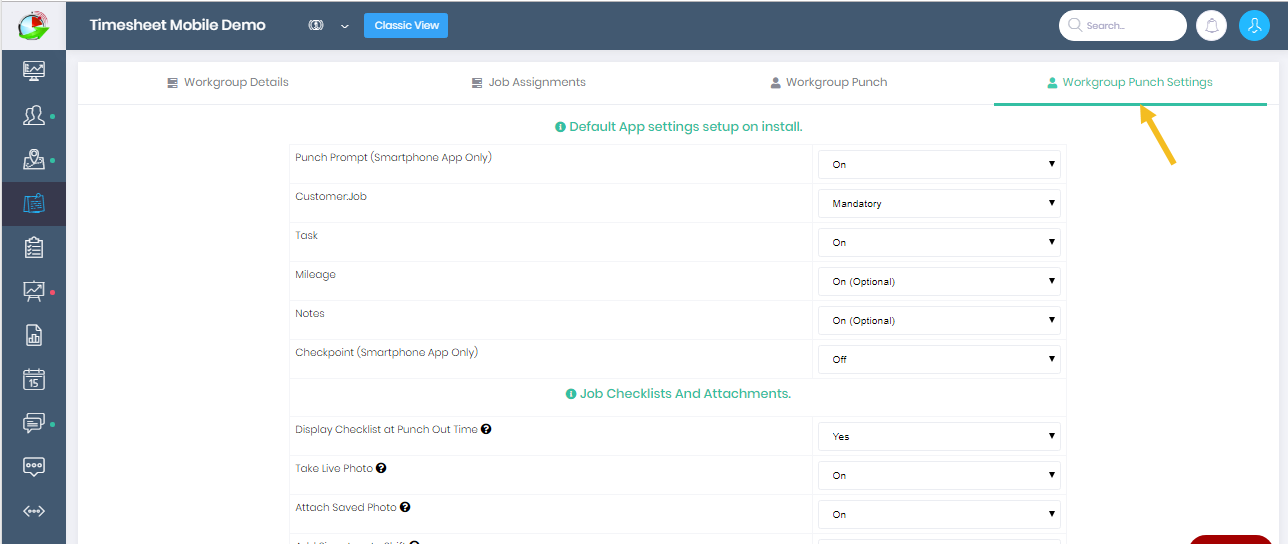 Decide that you needed to make a change to all workers in the company? No worries, all you need to do is go back to Punch Settings on the Account Settings page and make the change there (a warning will let you know this will affect all employees - even those with custom settings):