In situations where workers are performing work alone at locations without any supervision or co-workers nearby, a periodic status check can provide comfort that the worker is safely performing their required tasks. When working alone, a missed check-in can indicate a situation that needs attention, further investigation by a manager or supervisor, or other action depending on the specific nature of the work and location. Timesheet Mobile's Lone Worker Safety Check feature provides a simple, easy to use but powerful capability for workers to be reminded to indicate their time, location and any notes, photos, etc. and to notify managers if a lone worker did not check in at a specified time.
Enable lone work safety check from the account Punch Settings. Their frequency of the periodic notification sent to the smartphone app of any lone workers can be set with reminders intervals of 15 min, 30 min, 1 hour, or 2 hours. The Timesheet Mobile Check Point feature is the mechanism for workers to provide the status check and will automatically be enabled when lone working is enabled.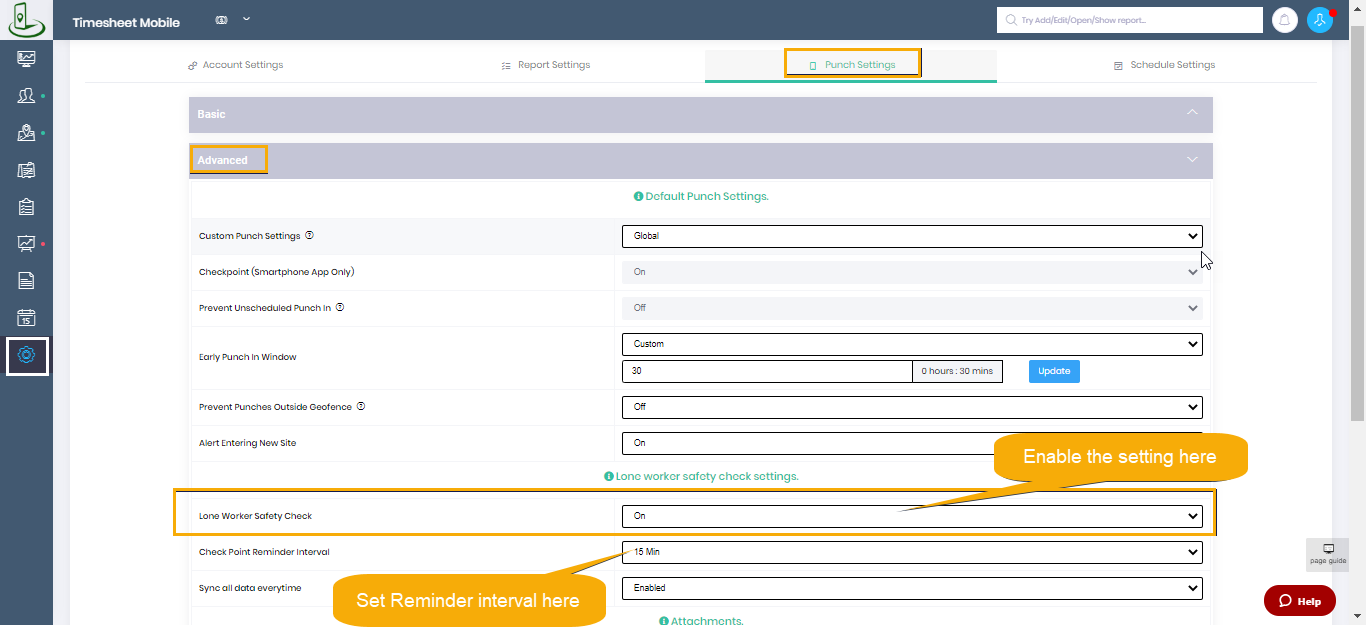 Once enabled, either globally or individually (see Customize App Settings by Employee), a checkbox labeled "Lone Worker" will be displayed at the time of punch in. If the checkbox is selected when punching in notifications reminding the worker to checkpoint will be provided on their smartphone at the interval selected in the account punch settings. The worker will open their app and press the Checkpoint button. The checkpoint added by the worker will include time & location and any notes or attachments entered by the worker.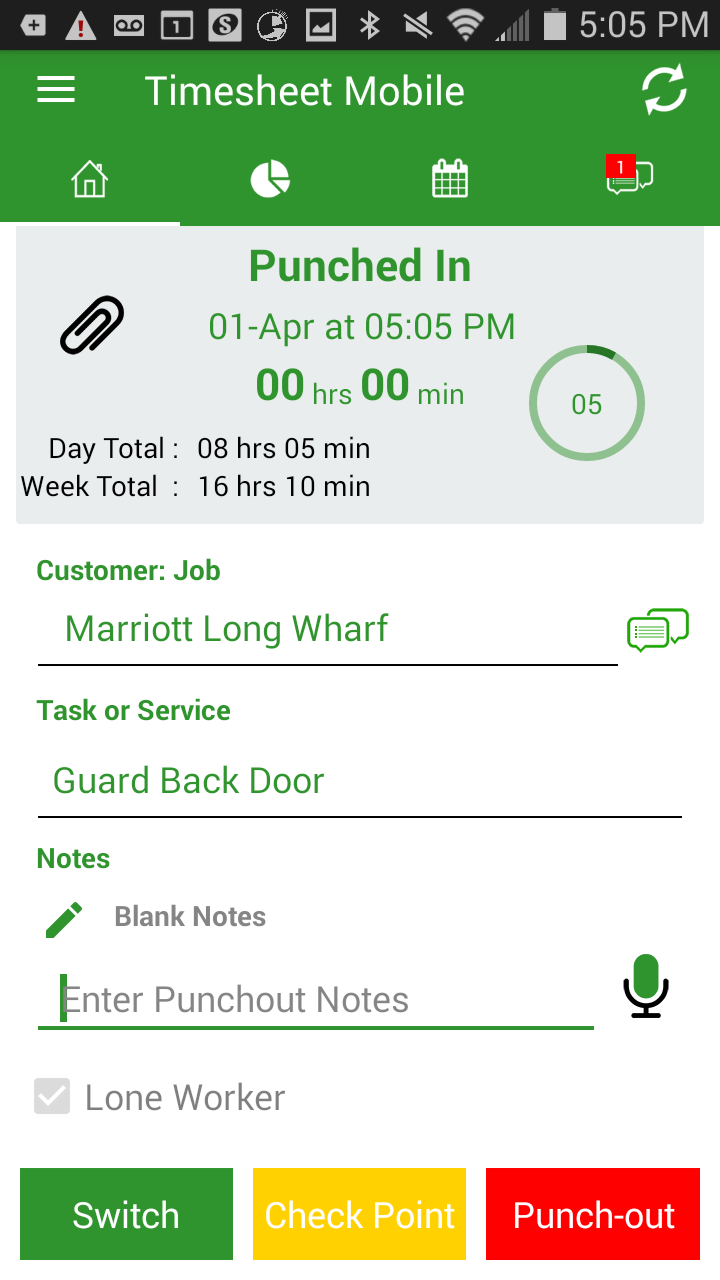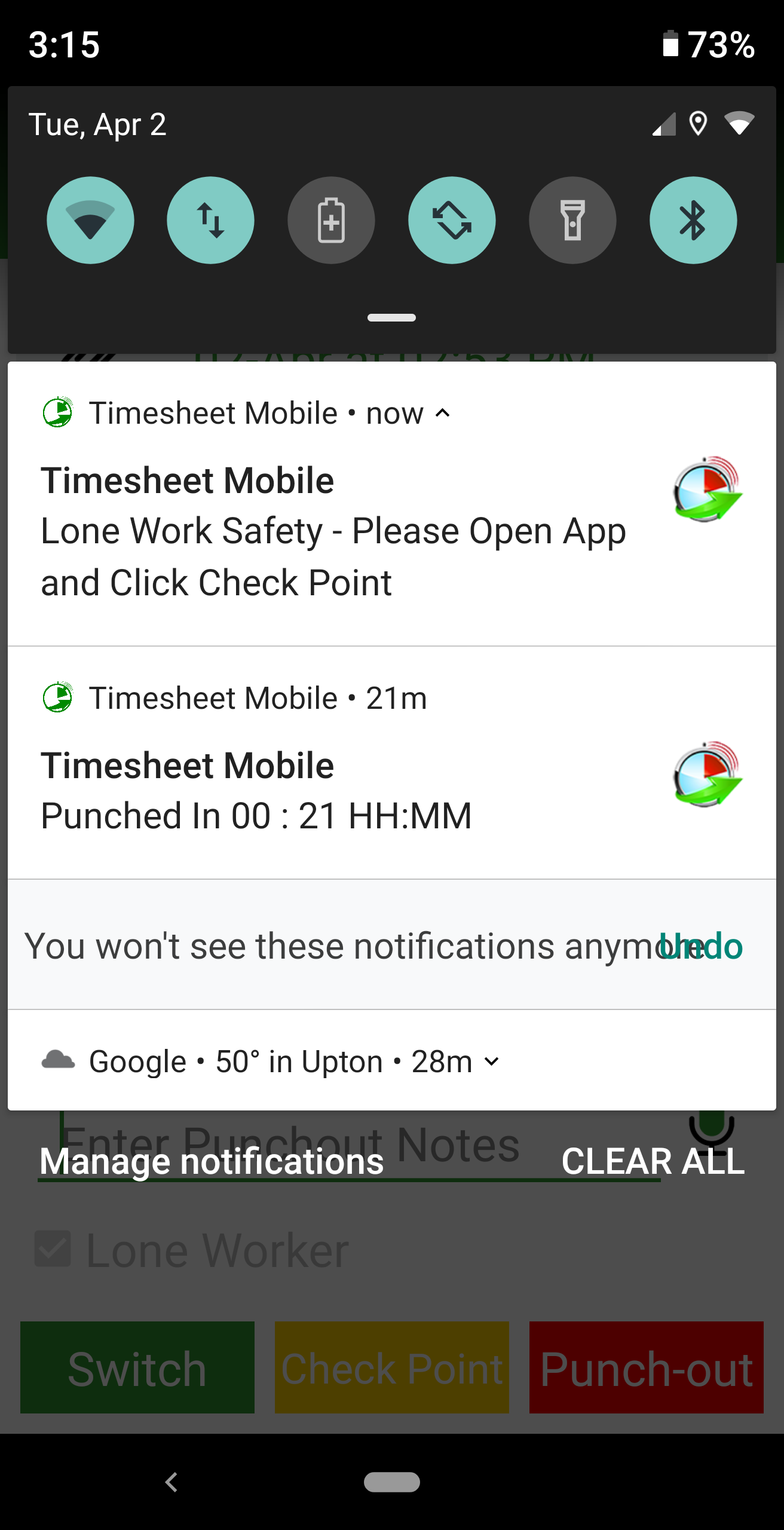 Consider the example below:
Anthony Jones punching-in to a job at 9:05 PM indicating that he is a lone worker.
Checkpoint notification interval set to 1 hour (i.e. checkpoint reminder notifications will be sent at 10:05 PM, 11:05 PM, 12:05 AM, etc.).
Anthony was late for the 12:05 AM checkpoint resulting in an email to his administrator/manager who could take appropriate action.

Email alerts for lone worker safety are set up in the same way as other configurable alerts (see Customized Email Alerts). A new selection "Lone working safety alerts" is able to be selected when editing an worker who is a designated manager or company administrator as shown below: