The main purpose of the Timesheet Mobile smartphone app is to help workers easily and accurately report their work times and information. Depending on the account settings selected, the app can do this by providing functionality such as location based reminders or prompts or by automatically starting and stopping work time based on location. In addition the app can be configured to ask workers to add photos from the camera or saved library, add audio attachments or add notes via voice to text.
Each of these functions require certain permissions be given to the app by the worker on their smartphone. The various use of permissions and reasons are provided below. If any of the account settings below are selected, the workers will be required to configure the settings on their smartphones accordingly. If settings enforcement is not something you wish to require of your workers, those account settings will need to be disabled either globally or for those specific workers who do not need them.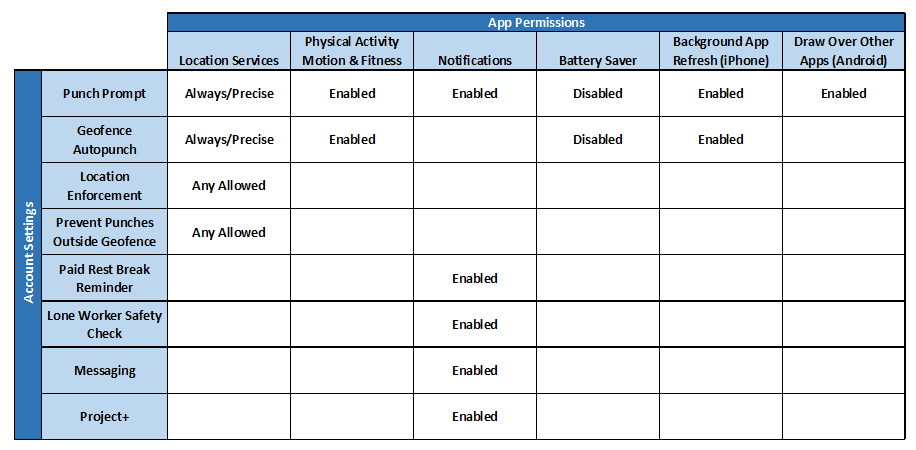 Location Permission
For many of the geofence related functionality, Timesheet Mobile requires workers grant some level of permission to access the smartphone location services. Although certain account settings require that a worker grant access to locations at all times or always, the worker's locations are only used to provide location based reminders or prompts or to automatically start and stop work times when the worker enters or leaves designated work areas. Worker locations are never continuously tracked or locations reported in any cases.
Location services permission set to always/allow all the time is mandatory if the following account settings are selected:
Punch prompt
Geofence Autopunch
Location services enabled but set to any option are required for a user to start and stop work times if the following account settings are selected:
Location enforcement
Advanced > Prevent punches outside geofence
Always or allow all the time is required in the cases above so that the app will function properly even if terminated.
Physical Activity/Motion & Fitness
Despite the name, the physical activity and motion sensor on smartphones provides more than what the name implies. Smartphones use this sensor to provide more frequent location updates to apps such as Timesheet Mobile and also provide information about whether a worker is driving which is used to prevent notifications and work starting while driving through a site.
Physical activity or motion & fitness must be enabled if the following account settings are selected:
Punch prompt
Geofence Autopunch
Similar to locations, activity detected is only used to provide user with prompt or reminder or to qualify whether work should be started or stopped based on entering or leaving geofence sites. This information is not continuously reported or available other than on the worker's smartphone.
Notifications
Notifications are used to remind workers when scheduled work starts, when they enter and leave designated geofence sites and for other important work related messages. Workers must enabled notifications if the following account settings are selected:
Punch prompt
Paid Rest Break Reminder
Advanced > Lone Worker Safety Check
Advanced > Messaging
Advanced > Project+
Camera, Photo, Microphone and Files
The ability to add pictures taken with the camera, photos saved on the phone and audio attachments can be selected to be added to shifts or to the team collaboration and messaging features. These settings are requested only if the user actively selects to attach or add an image or file and never accessed at any other time.
Draw Over Other Apps (Android only)
This setting is required for workers using the Android app if the punch prompt account setting is selected. It is required to display alerts when the worker enters or leaves a geofence while still working but when the app is in the inactive state.
Background App Refresh (iPhone only)
Background app refresh is required for iPhone users if either Punch Prompt or Geofence Autopunch settings are selected. This is required for proper performance of these settings.
Battery Saver Mode
Use of battery saver is restricted to only cases in which the operating system requires it (battery < 20%) if either punch prompt or geofence autopunch is selected. The frequency of location updates is reduced considerably when battery saver mode is enabled which is why this setting is enforced in cases where the account settings require it.