Timesheet Mobile supports several methods of assigning sites and tasks. Using site and task assignments controls which sites and tasks are available and able to be selected by workers when punching in or by managers and administrators when adding or modifying time or creating scheduled shifts. Reducing the list of available sites and tasks that workers have to choose from helps to minimize confusion and timesheet errors. See the image below for the options that are available and text below for descriptions of how each of these modes work.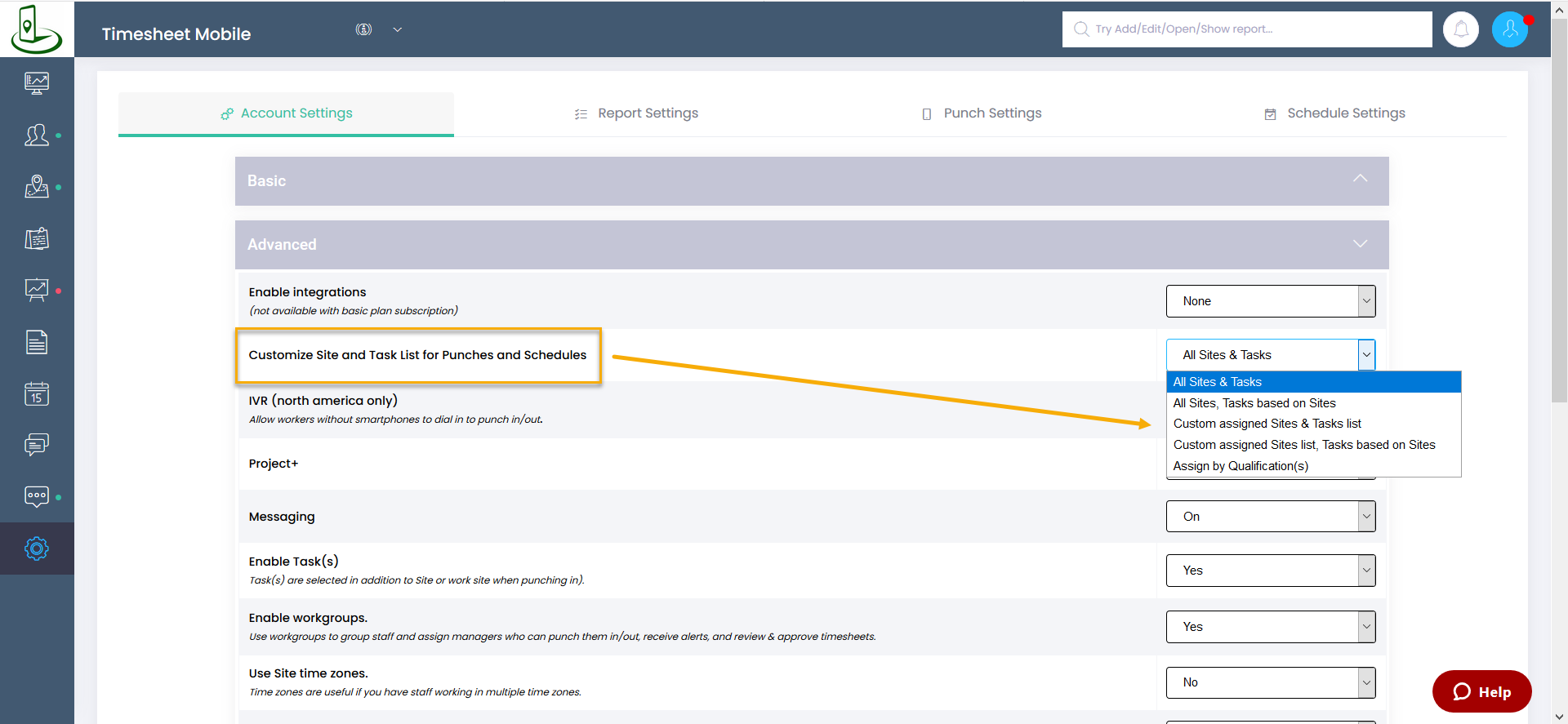 Assign All Sites & Tasks to Workers
If you want your workers to be able to view and select all active Sites and tasks when punching in, select "All Sites & Tasks" in Account Settings. Any site or task that has been added to your account and that is active will be visible to the worker and able to be selected when punching in on the smartphone app, web punch, manager punch/kiosk, and when creating schedule events. This is the default option for new accounts.
Assigning Sites & Tasks to Each Worker
If you wish to customize the jobs that workers can view and select when punching in and your workers perform the same tasks at multiple sites, use the "Custom Assigned Site & Task List" setting. In this mode, workers will be able to select only those sites and tasks that an administrator or manager has assigned to them. Assignments can be made by choosing the Site Assignment and Task Assignment menu items, in the Control Panel View for the selected Worker, Site, or Task as shown below.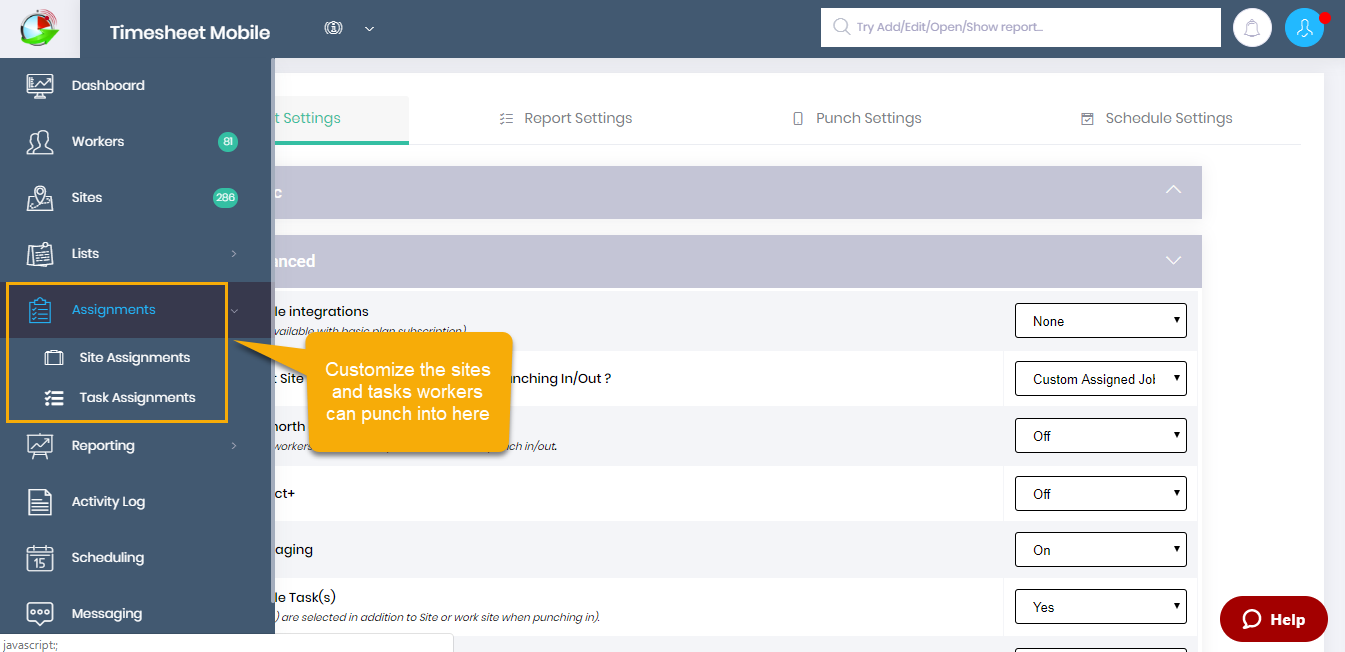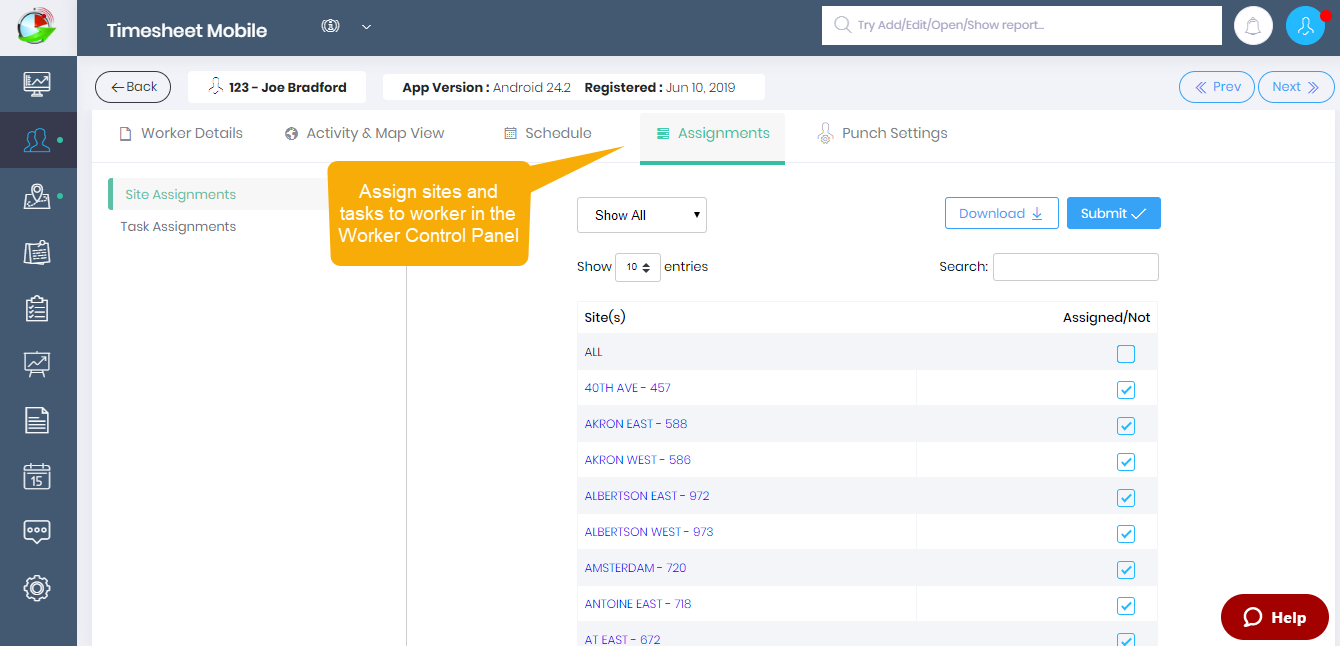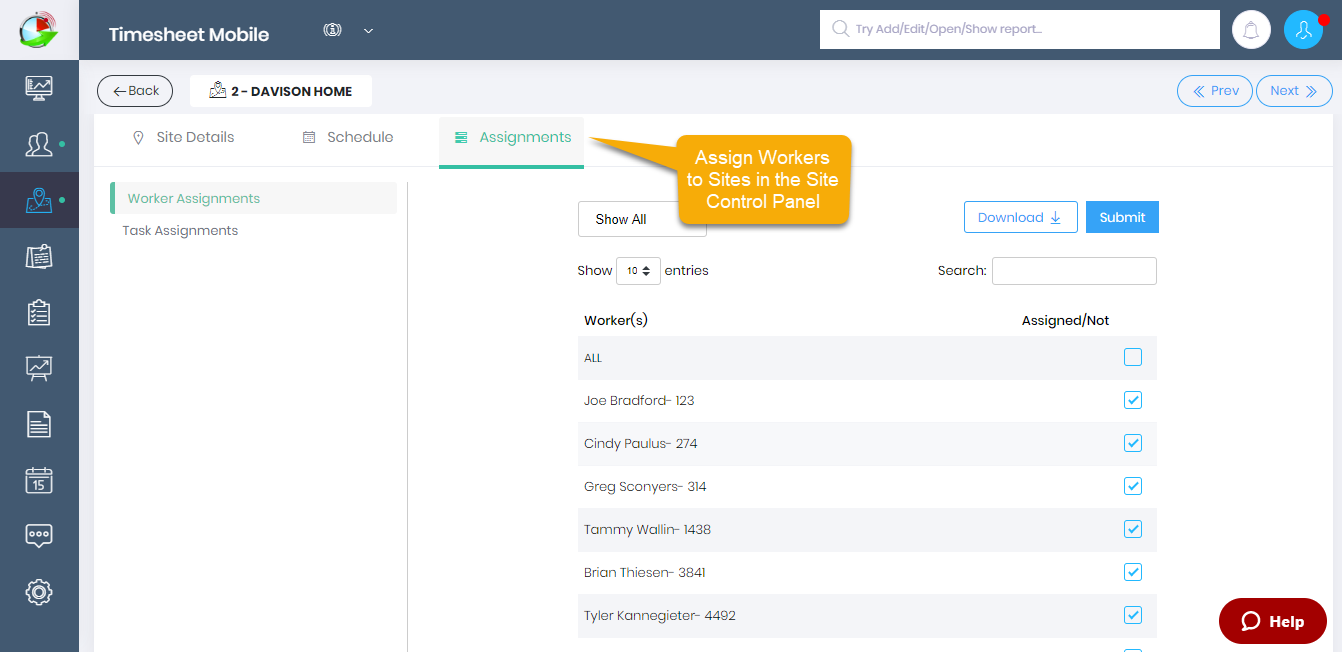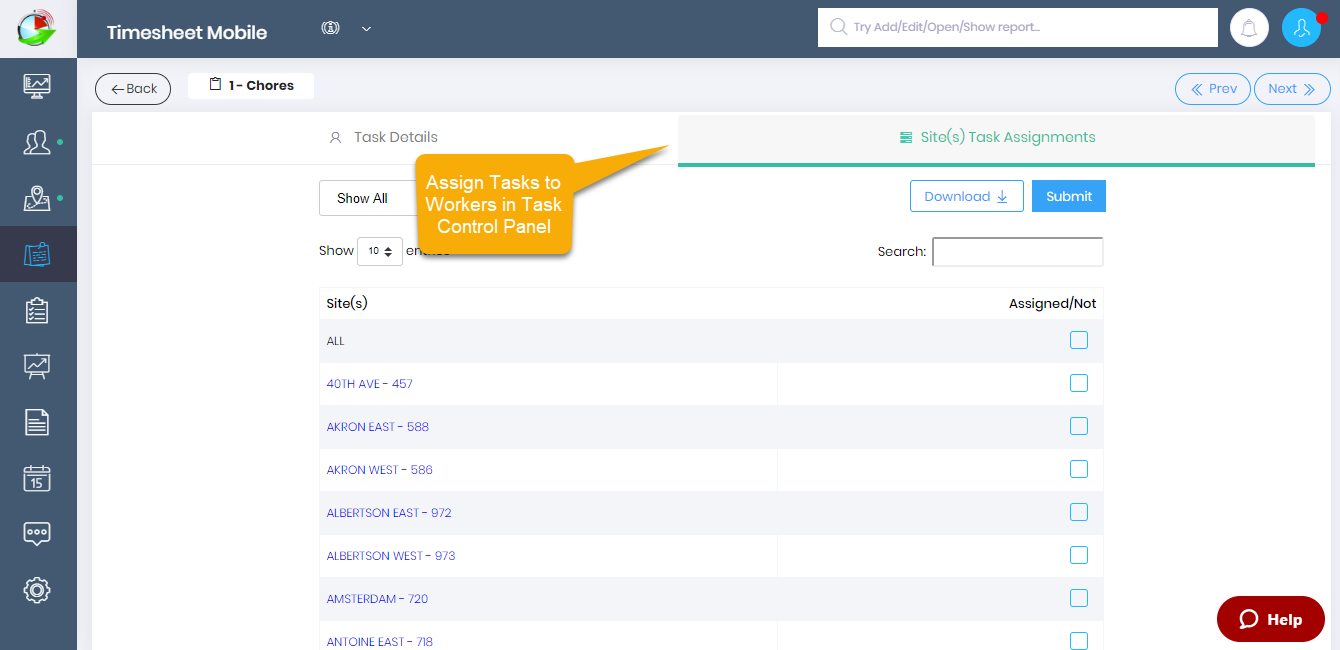 Assigning Tasks by Site
If the tasks that are performed by your workers are specific to each site choose one of the options for "Tasks Based on Site" - with either "All Sites" or "Custom Assigned Site List" assigned to the worker. In this mode, tasks are assigned to specific sites and workers preventing workers from choosing unrelated tasks when punching into the site. Customizing the list of tasks assigned to jobs can be done from the Assign Site Tasks page or the Site Control Panels as shown below.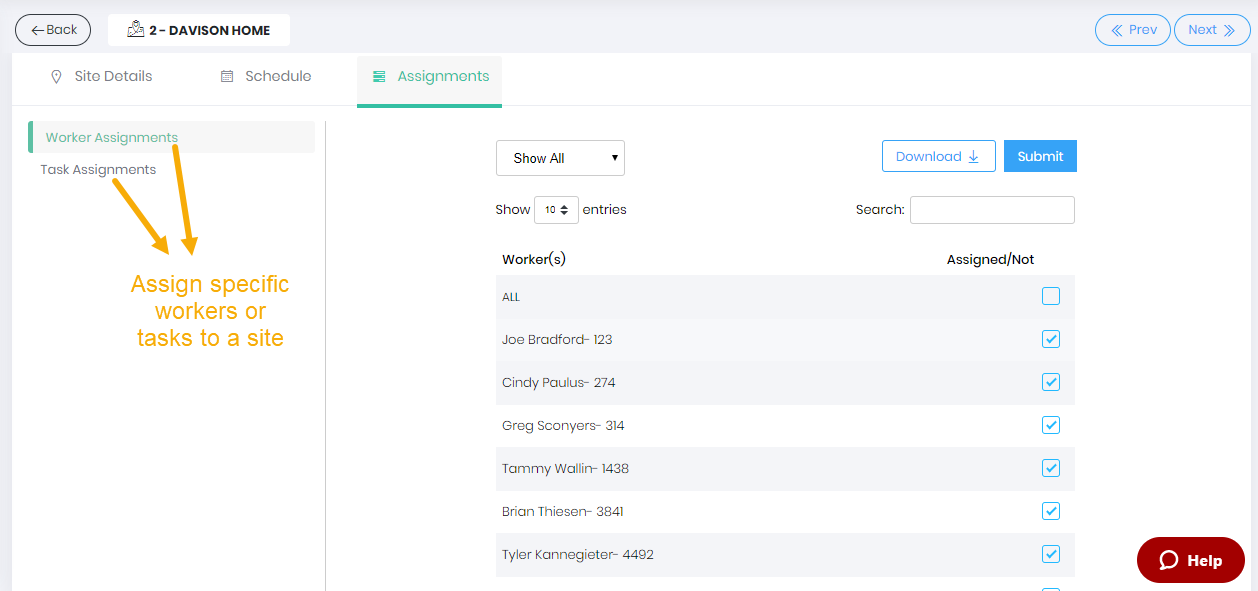 Assign by Qualification(s)
In this mode, managers and administrators can create qualifications, add them to sites, tasks and workers and automatically create assignments based on matches. When this assignment method is selected, a new list, Qualifications, is created. Add qualifications to this list.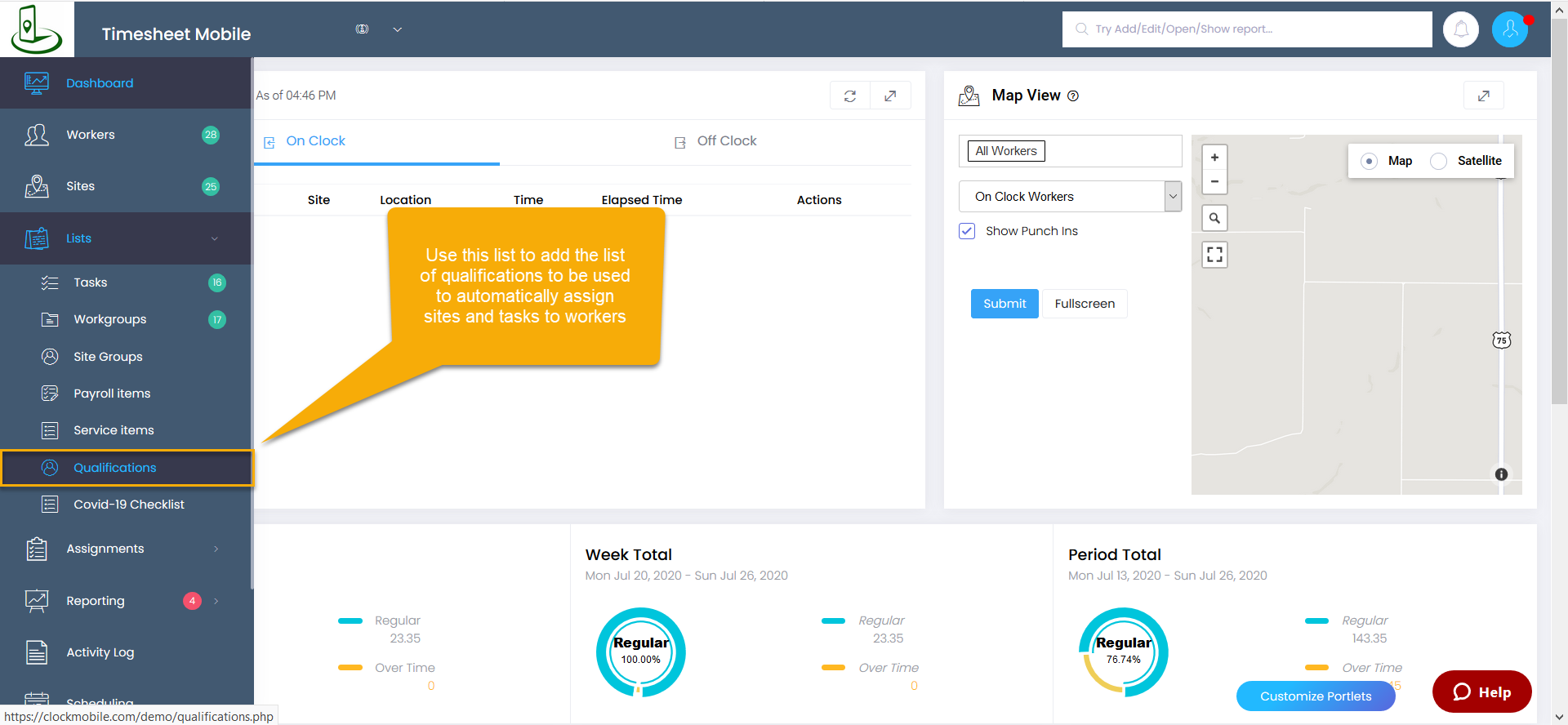 See below for some examples of Qualifications. A worker is assigned to any site or task that they are qualified for. Workers are assigned to any site or task for which they meet ALL of the qualifications. Workers can have more qualifications than a site or task requires, but not less.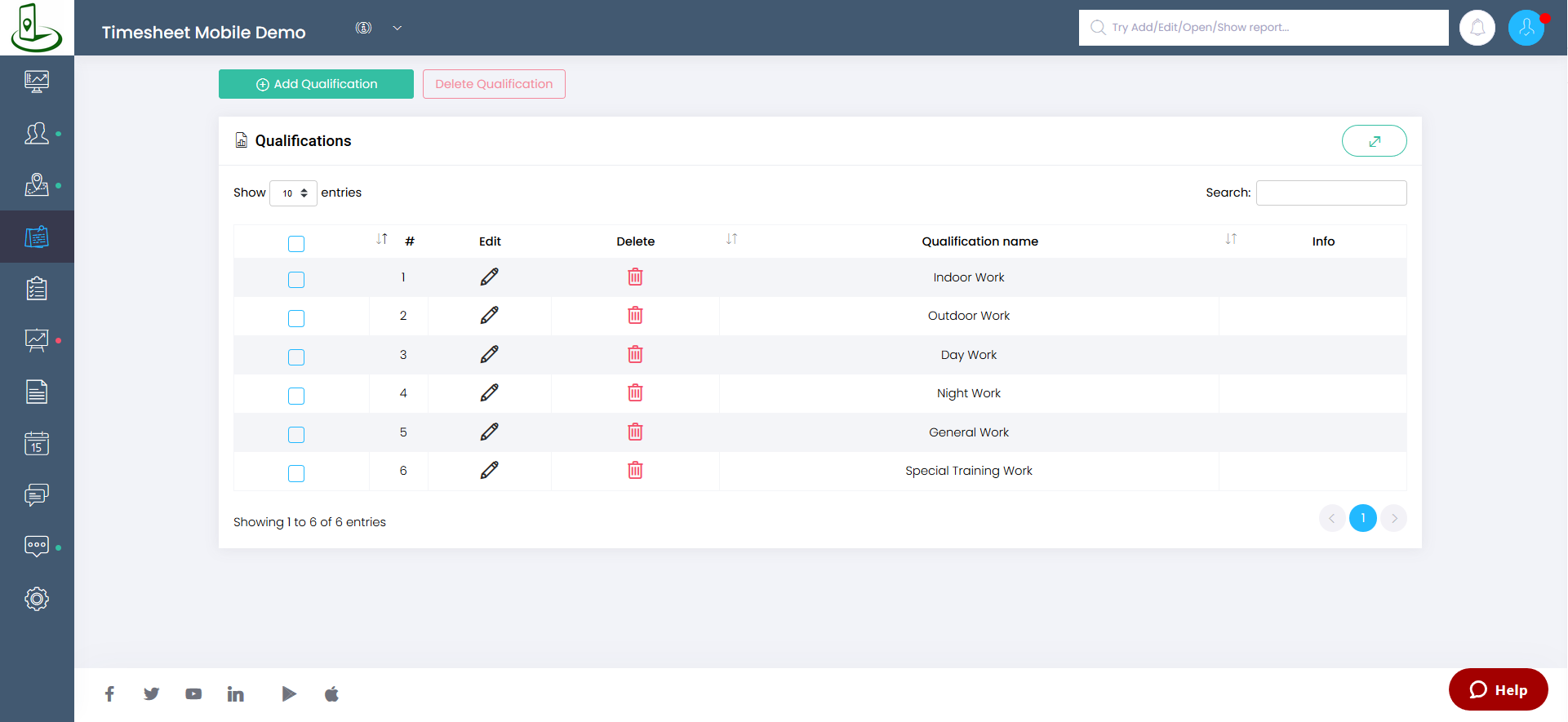 Some examples should help explain how you can use qualification based assignments to help automate your process. First, let's start out with a specific site in the Timesheet Mobile demo account: Commercial Plaza. Qualifications can be added to a site by editing or using the control panel as shown below. In this example work at Commercial Plaza requires "Day Work" and "General Work" qualifications.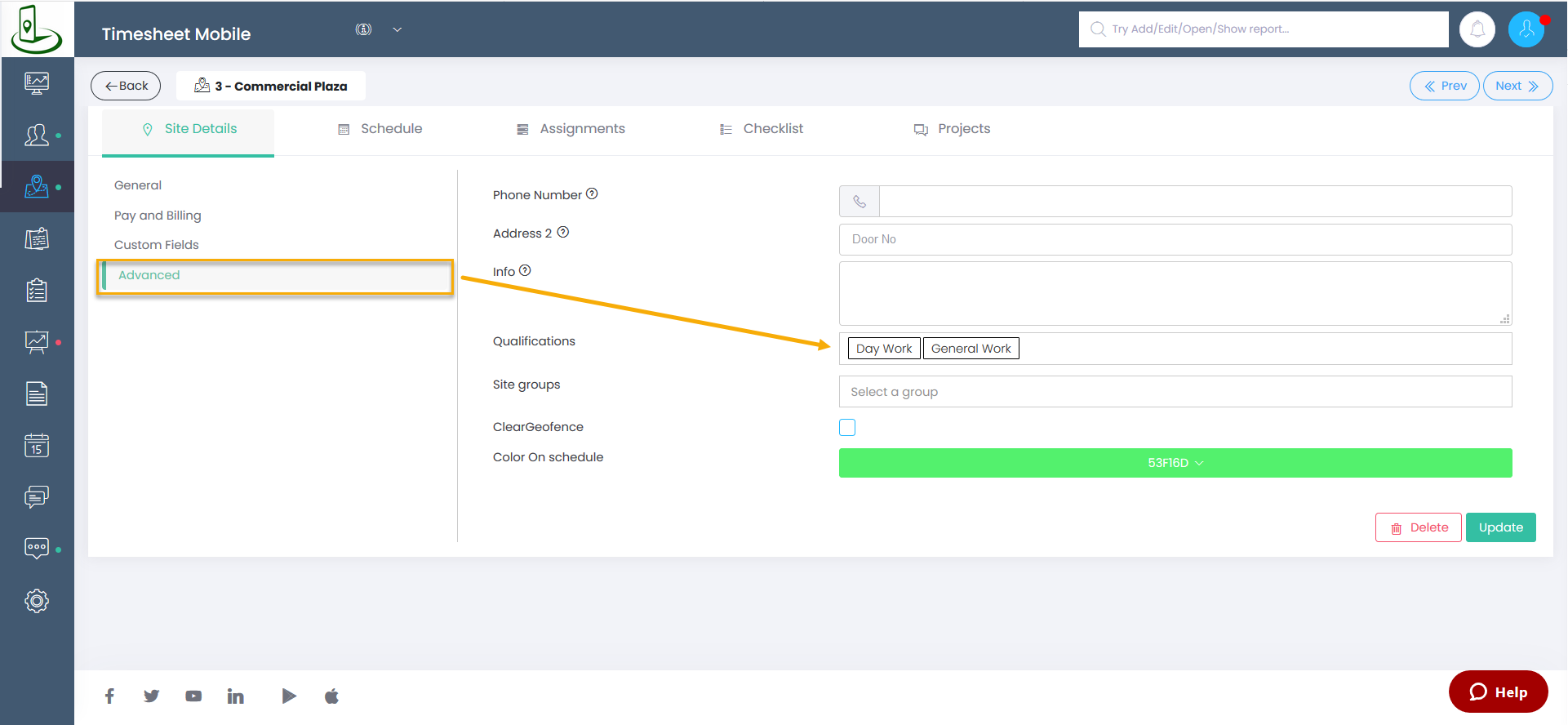 By editing or using the worker control panel, Commercial Plaza will be assigned to each worker with BOTH "Day Work" and "General Work" qualifications. Workers may have more qualifications than required by must have ALL qualifications associated with the site or task in order to be assigned to that site or task and be able to select it while punching in. See below for worker Marie Smith having the necessary qualifications and John Doe missing one necessary to be assigned:
Site and task assignments are automatically updated as qualifications are added/removed meaning John Doe will not be able to see or select Commercial Plaza when punching in but Marie Smith will. The automatic updates based on qualifications makes this method of creating assignments simple, intuitive, and powerful.
Powerful Time Reporting
Used in conjunction with task reporting (Task Time Reporting) the ability to customize the task list available for selection by your workers can help you get control of your business labor costs. Leveraging additional job cost reporting (Job Cost Reporting) can take your business to the next level of competitive advantage.