Timesheet Mobile has expanded scheduling capabilities in the web interface and smartphone app for employees using Android version 24.0 or iPhone version 12.0 or later. Previous to these versions, employees could be assigned specific shifts and receive reminders to punch in/out at the start and stop time of the shift. Administrators and managers could optionally receive alerts if these shifts were not staffed in a timely manner (see Customized-Email-Alerts).
Available/Open shift functionality adds flexibility to these basic scheduling capabilities. See below for a summary of the new available/open shift scheduling features available in Timesheet Mobile:
Create "Available Shifts"
Create "Open Shifts" to assist in schedule planning
Enter optional Event Information displayed in event within smartphone app
Create All Day shifts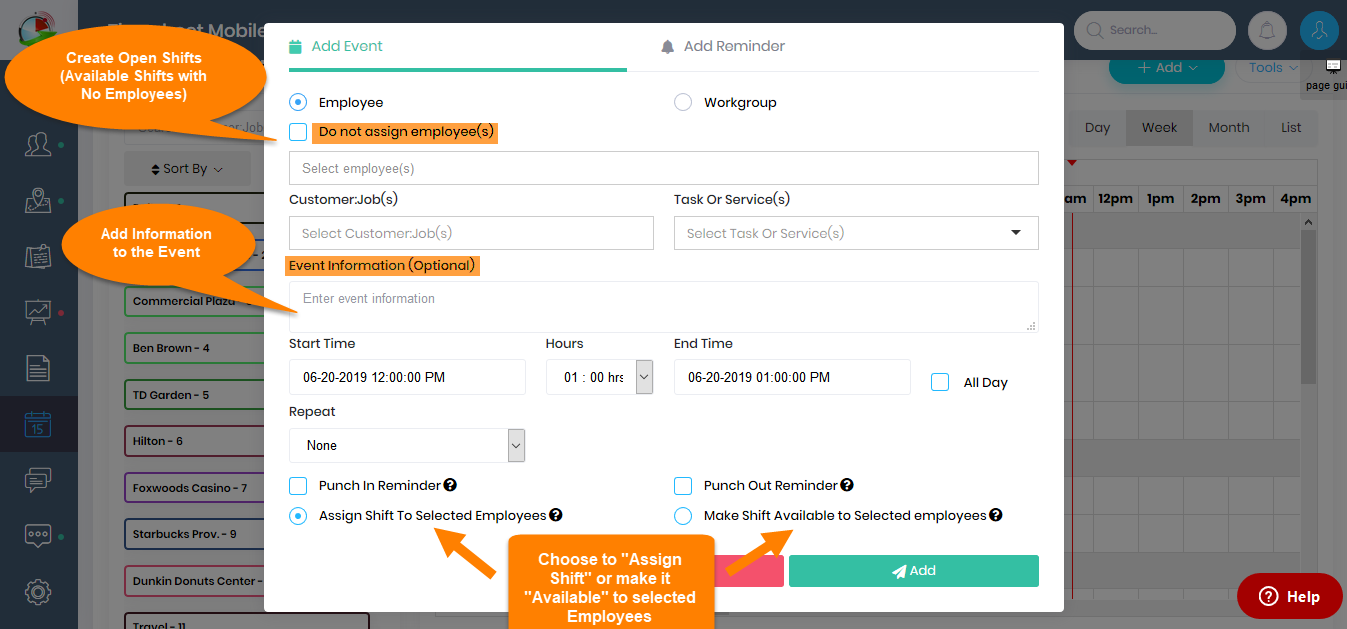 Here is how to enable Available/Open Shifts in the Add Ons settings:
Available Shifts
Now, shifts can be created and marked as "Available". Available shifts are exactly what you would expect - shifts that available for employees to view on their smartphone app and select to punch in/out. In this way you can create a number of available shifts for employees to choose from a list on their smartphone app Schedule tab throughout the work day. As soon as an available shift is worked by an employee, it will no longer be available for other employees to select.
Let's take an example from the Timesheet Mobile Demo account. In the example below, and administrator is creating a shift that is available to the entire Security Workgroup. The shift is available from 4 AM to 9 AM and will be visible on the smartphone app Schedule > Available Shifts tab of all the employees in this workgroup. In this example employees will also see the additional event information "Need someone to guard door" in the event information.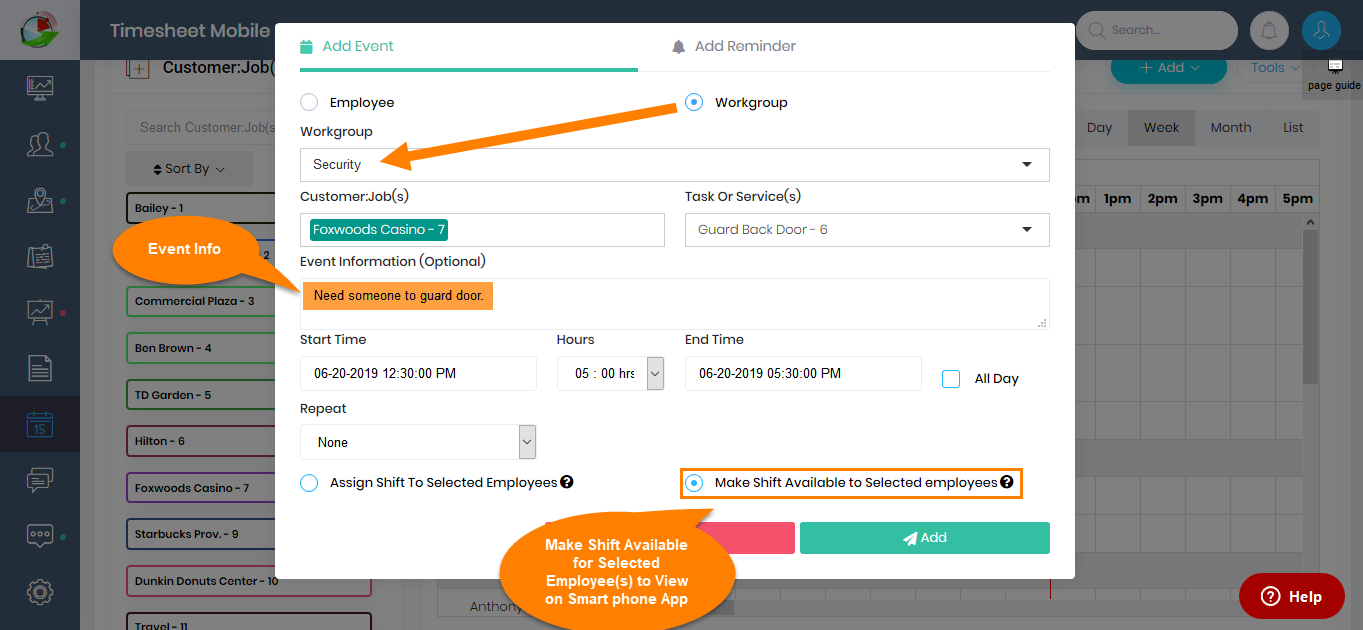 This shift will be available for administrators/managers to view in the employee/job calendars as shown below.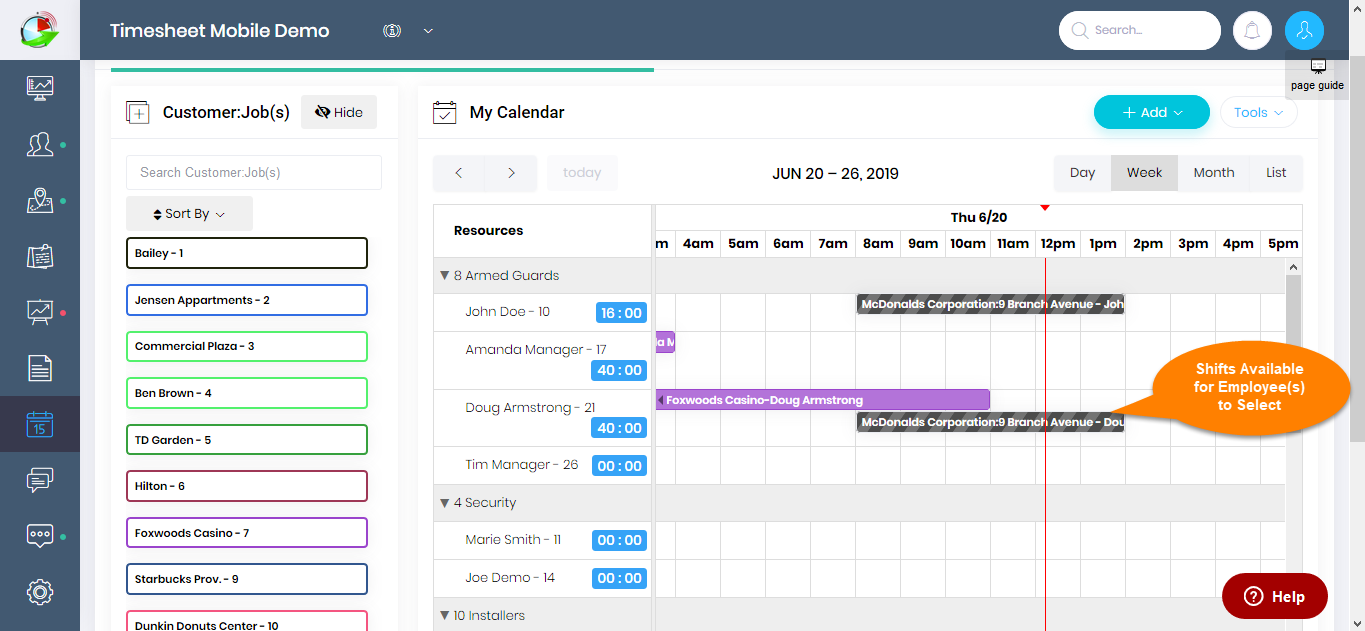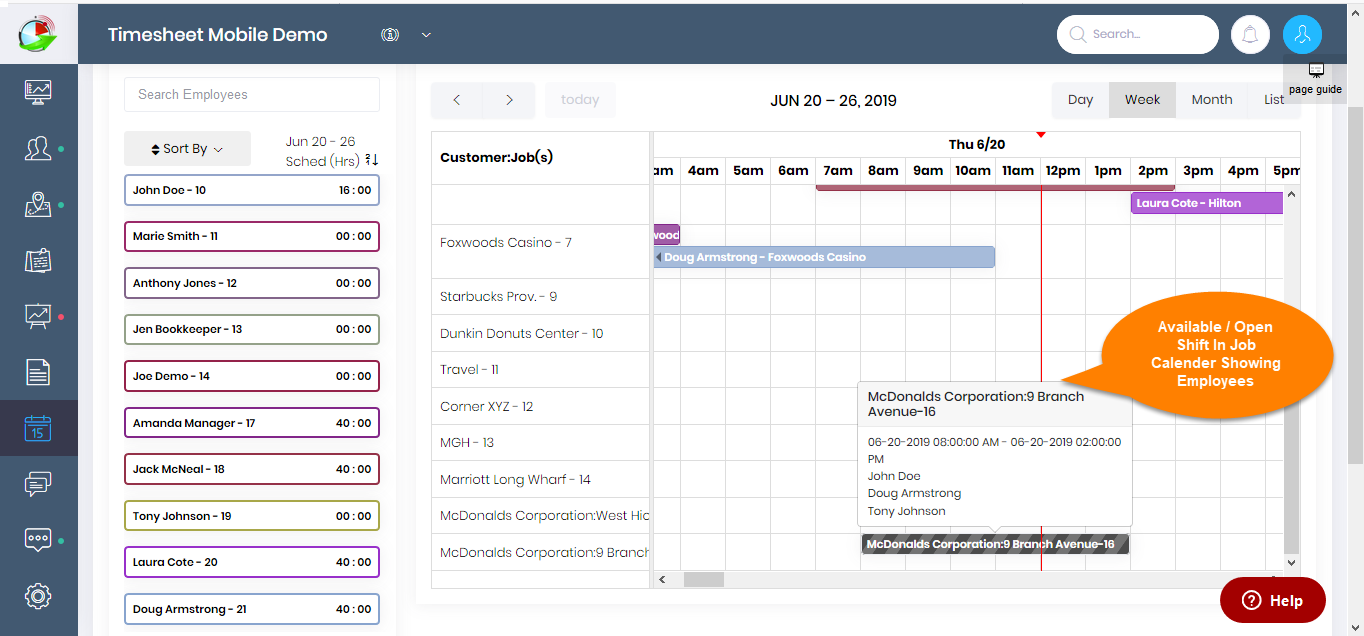 See below for the view that the employees will see within the smartphone app.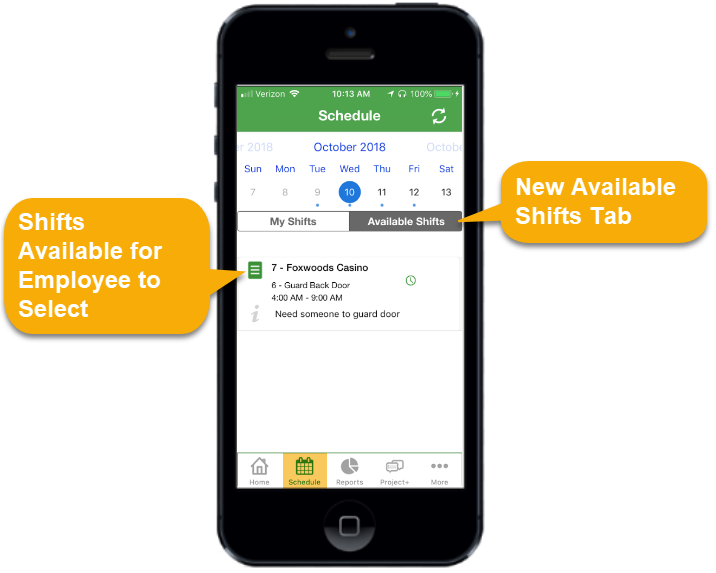 When an eligible employee selects the available shift and punches in, it will be removed from available shifts and no longer available to other employees to work. An assigned shift for the employee that punched into the available shift will be created as a record. In cases where some employees on the list are not connected to data (i.e. offline) there is no way to know whether one or more employees has taken an available shift. The first employee punch in log that is uploaded to the server makes the shift unavailable for other employees to select from but in this situation multiple employees may be punched in on the same available shift.
Open Shifts
Open shifts are simply shifts that do not yet have any employees or staffing resources associated with them. Many of our customers have asked for the ability to place these shifts on their schedules to aid in future planning. These open shifts are displayed in the Job Calendar to provide visibility to administrators and managers who can then edit the open shift and convert to either an available shift for employee(s) to choose or an assigned shift to one or more employees.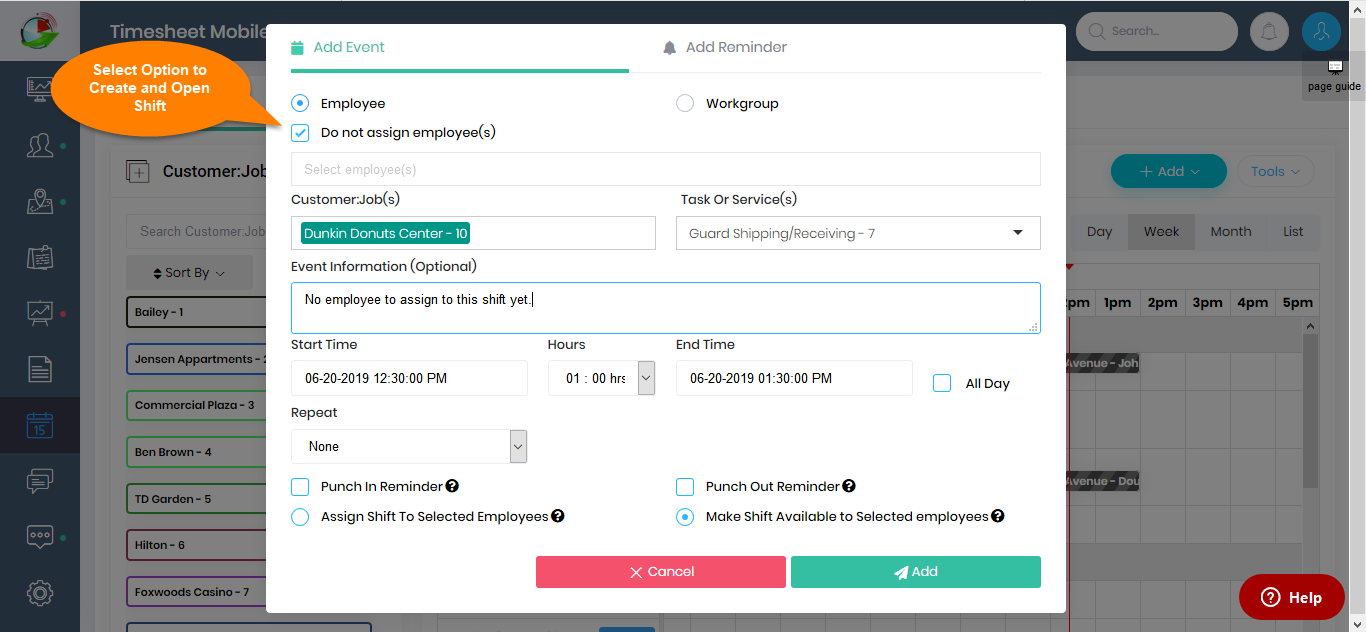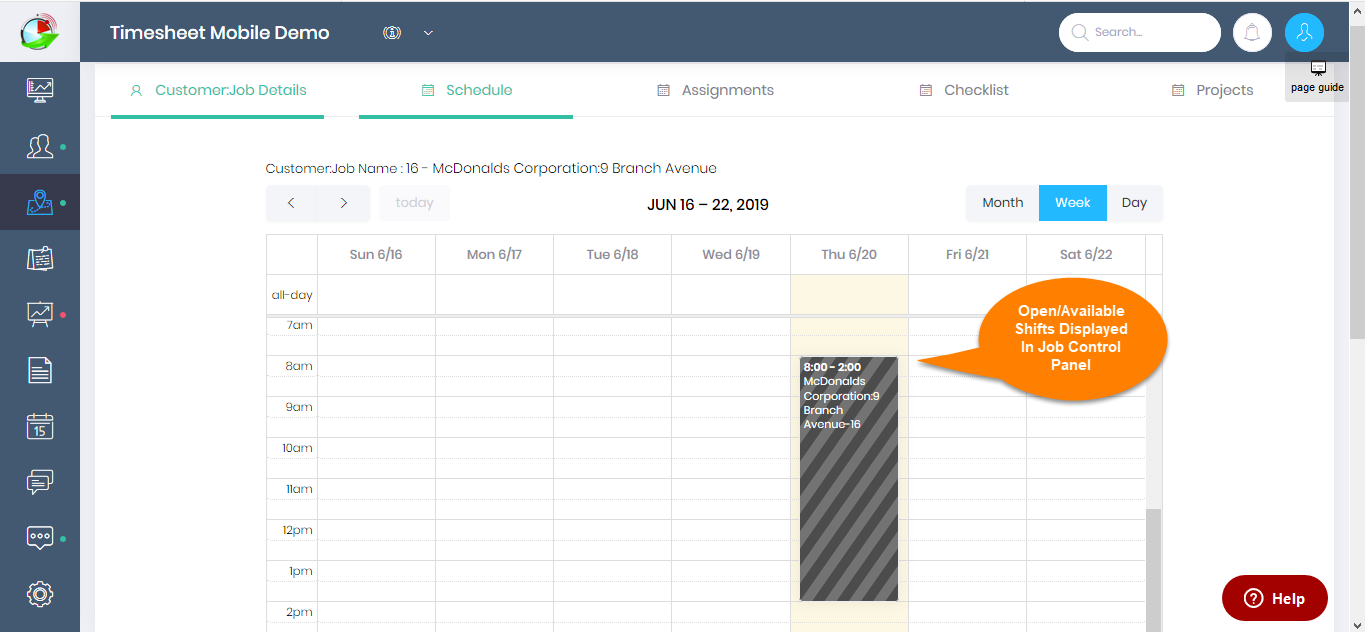 Assigning Available/Open Shifts
Available/Open shifts can easily be converted into shifts specifically assigned to an employee or group of employees. Simply edit the event by clicking the event in the Scheduling master job calendar or in the job control panel calendar. Add or modify the employees you wish to assign the shift to, update any event info (optional) and click "Assign Shift to Selected Employees". Click "Update" and the shift will be converted from Available/Open to assigned for those employees.