In some cases, administrators and managers need to enter open shifts - shifts in the schedule for a workplace, but may not know when workers are yet able to be assigned to those shifts. In other cases, available shifts, that multiple workers can view and claim as their schedule permits, may need to be added. Open shifts are typically used for planning purposes, as a placeholder for known work that needs to be performed, but before workers have been identified. Available shifts are typically used when the shift can be performed by the first available worker to claim the shift.
Open Shifts
Open shifts are simply shifts for work at a workpace that do not yet have any workers or staffing resources associated with them. Many of our customers have asked for the ability to place these shifts on their schedules to aid in future planning. These open shifts are displayed in the Job Calendar to provide visibility to administrators and managers who can then edit the open shift and convert to either an available shift for worker(s) to choose or an assigned shift to one or more worker.
Creating open shifts follows the same flow as creating assigned shifts. Simply click the "Add" button, click within the calendar or drag/drop a resource (worker/site) from the left panel to launch the add modal box (see below). Leave the worker selection blank to create an open shift for that workplace at the designated date/time. These open shifts can be edited to add workers at a later time, when you are ready to schedule the work and assign the shift to one or more workers.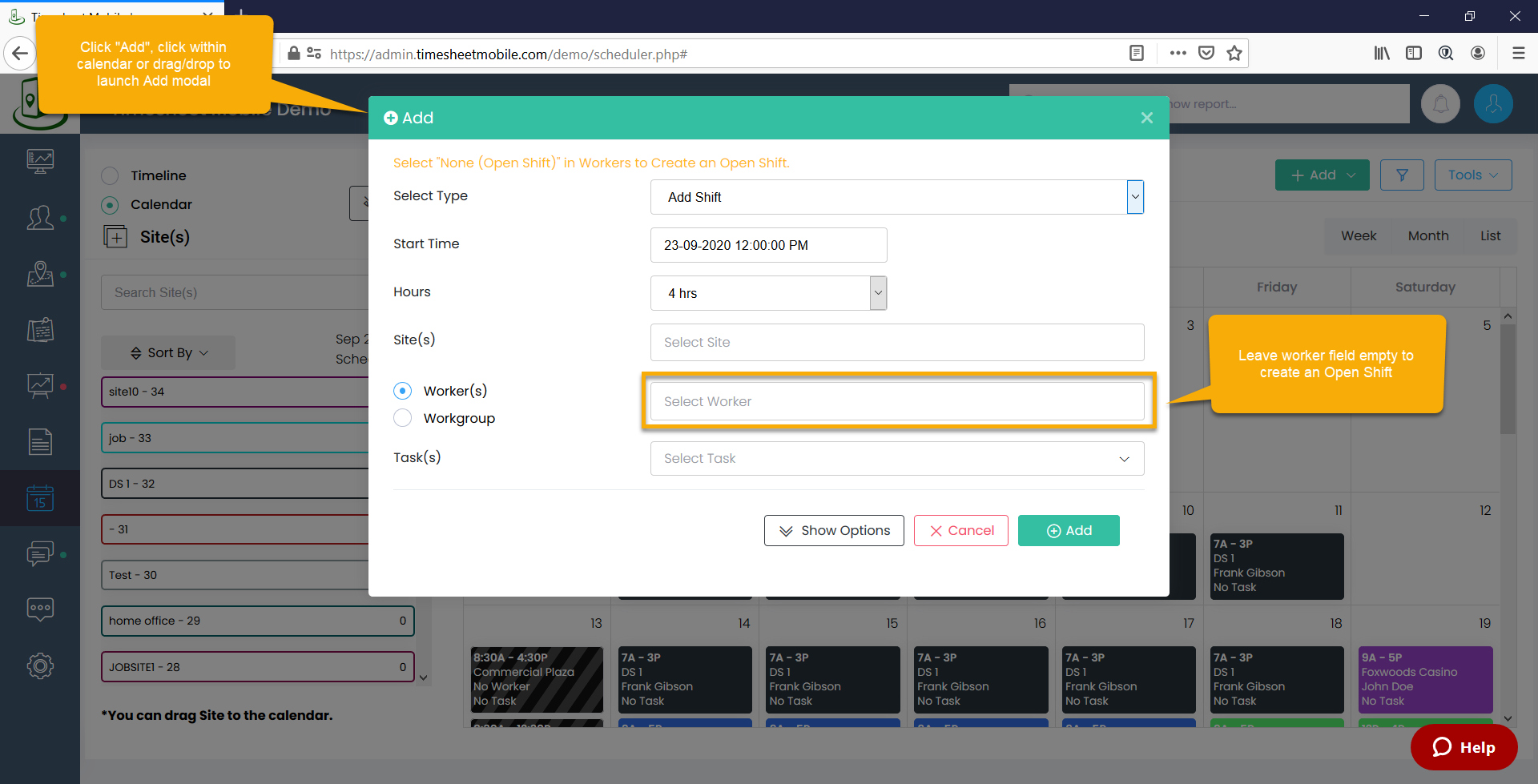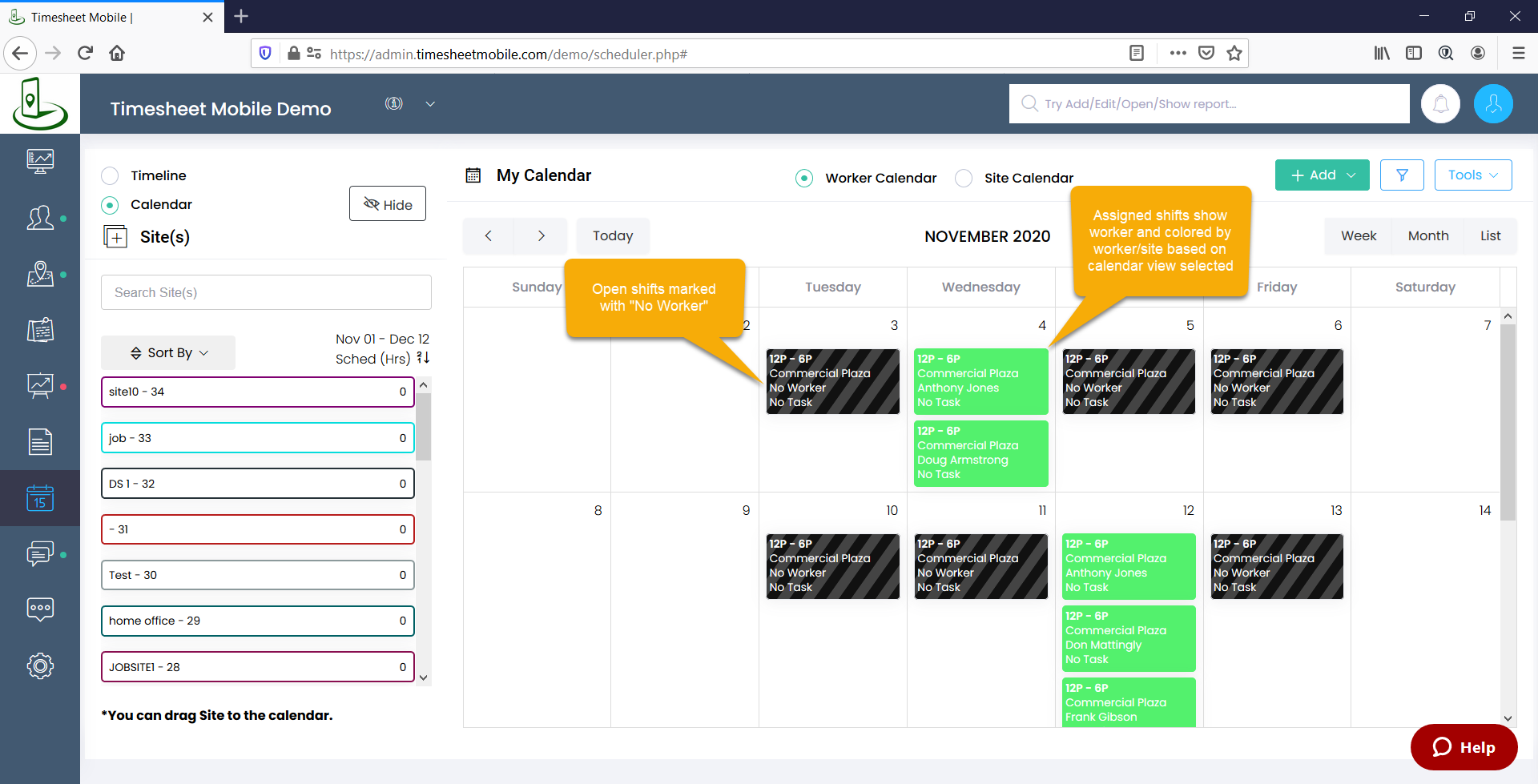 Available Shifts
Available shifts are shifts that are accessible to workers from their Timesheet Mobile smartphone app and are selectable to clock in and out from. In this way, you can create a list of available shifts for employees to choose from on their smartphone app using the Schedule tab. As soon as an available shift is claimed by a worker, it will no longer be available for other employees to select. Workers can explicitly claim a shift by selecting it in the Schedule tab on their app or simply clocking into that shift from their app.
Let's take an example from the Timesheet Mobile Demo account. In the example below, the administrator is creating a shift that is available to the entire Security Workgroup. The shift is available from 4 AM to 9 AM and will be visible on the smartphone app Schedule -> Available Shifts tab of all the employees in this workgroup. In this example, the worker will also see the additional event information "Need someone to guard door".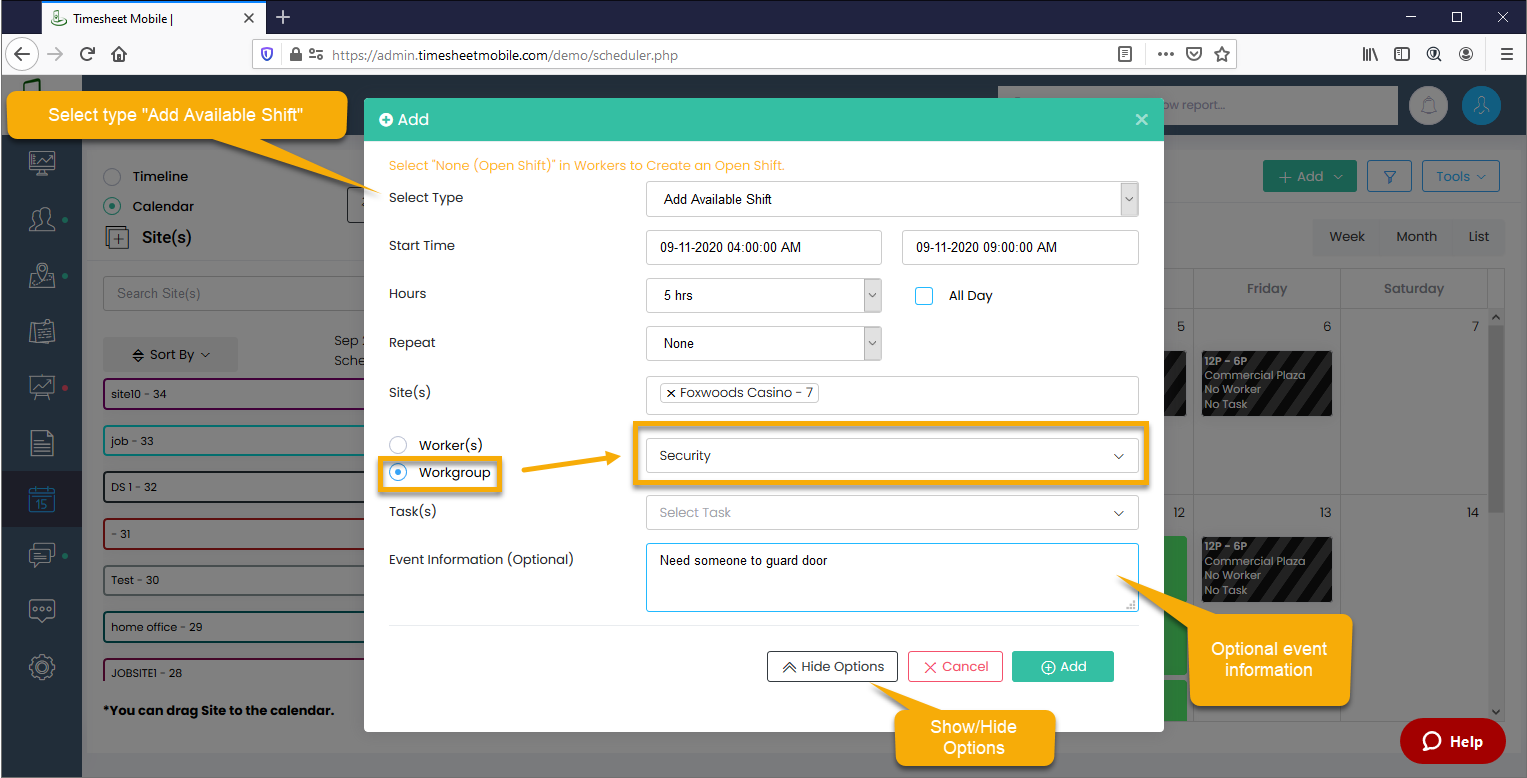 This shift will be available for administrators/managers to view in the worker/workplace calendars, as shown below.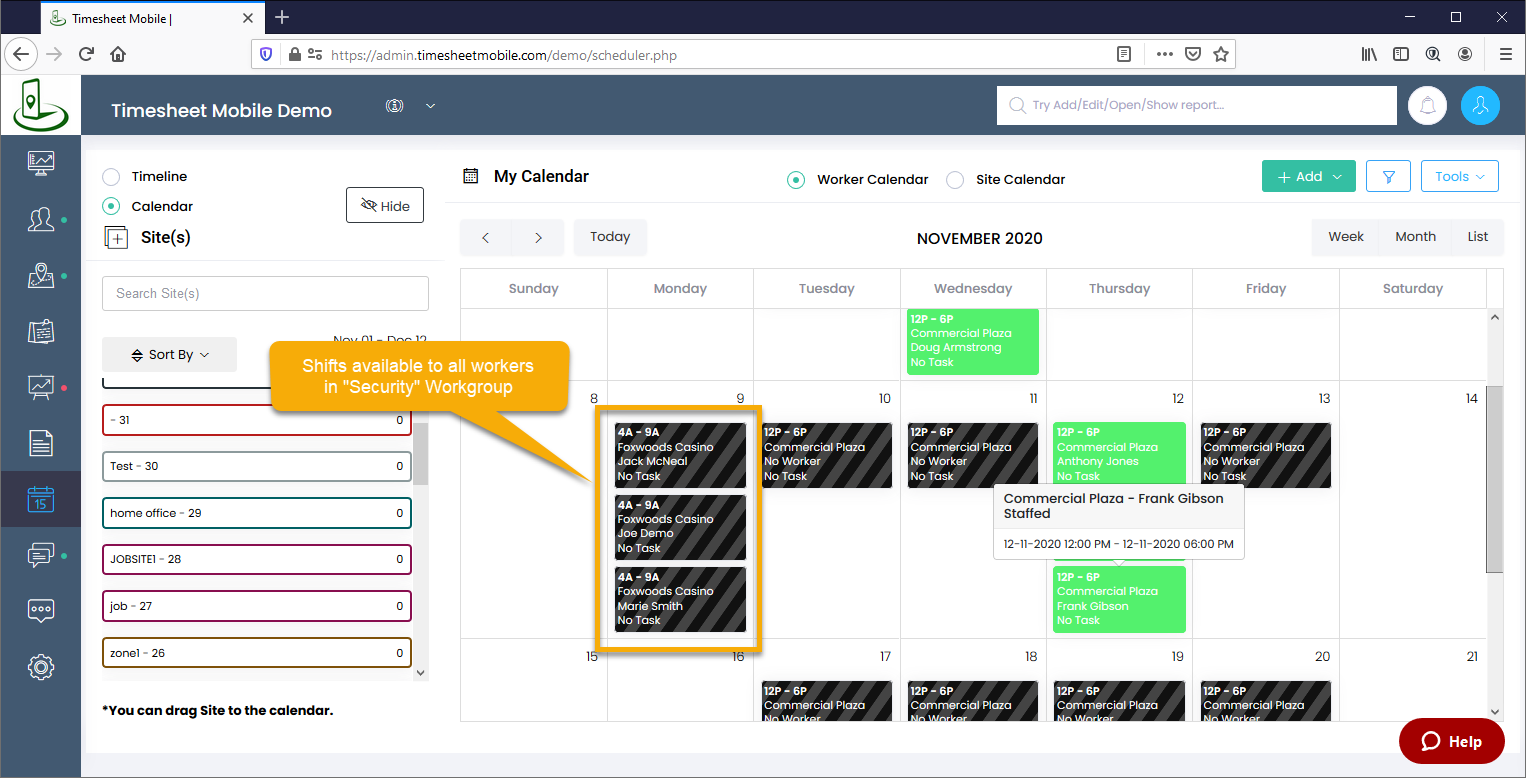 See below for the view that the workers will see within the smartphone app.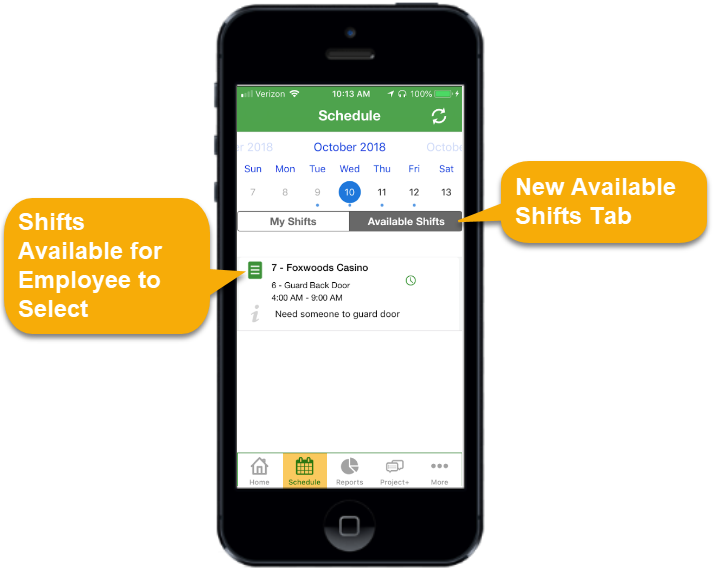 When an eligible worker selects the available shift and clocks in, it will be removed from the available shifts list and no longer available to other employees to select. An assigned shift for the worker that clocked into the available shift will be created as a record.
In the case where a worker is offline when they selected a shift, there is no way to know whether another worker has taken the same available shift. Normally, the first employee to clock into the shift is logged by syncing with the server over the internet. This will make the shift unavailable for other workers to select from. But if there are offline workers who select available shifts at the same time, then multiple workers may be clocked in on the same available shift.
Assigning Available/Open Shifts
Available/open shifts can easily be converted into shifts specifically assigned to a worker or group of workers. Simply edit the shift by clicking on it, either from the main Scheduling calendar or from the Workplace-specific calendar. Add or modify the workers you wish to assign the shift to, update any shift info (optional) and click "Assign Shift to Selected Workers". Click "Update", and the shift will be converted from Available/Open to assigned for those workers.