Getting started with Timesheet Mobile takes only a few easy steps:
Add and invite workers
Add geofence work sites
Worker app registration and activity
View work activity
Run reports
1. Add and invite workers
The Dashboard page is displayed when you first log into your account.
Click

to start adding workers (the menu will have a default name Workers but may have been changed in your account). Note: there will be a worker record associated with the system administrator. This record should not be deleted. Any change made to the email address will affect the user account of this administrator.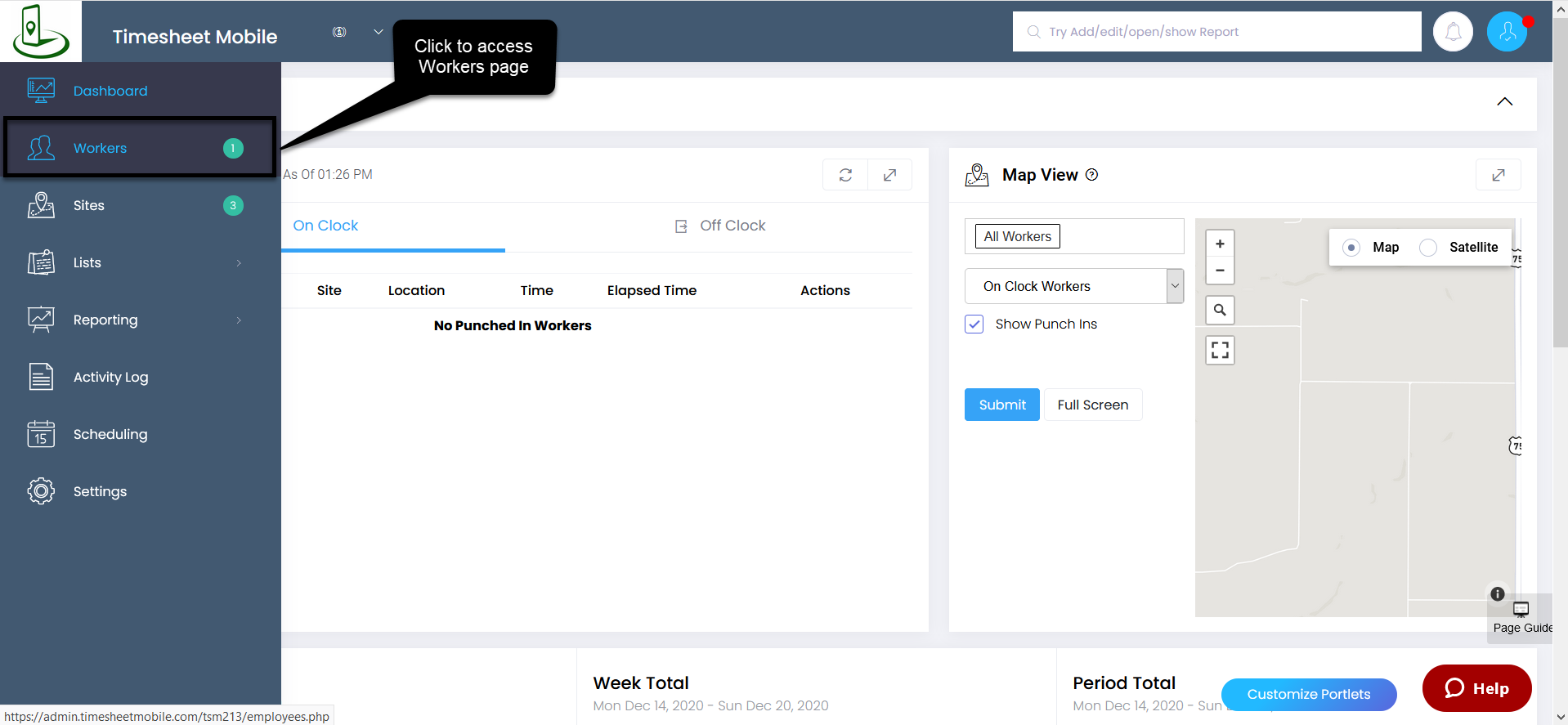 Start entering workers by clicking the "Add" button:

. If you have many workers to import, you can use the .CSV file template to import.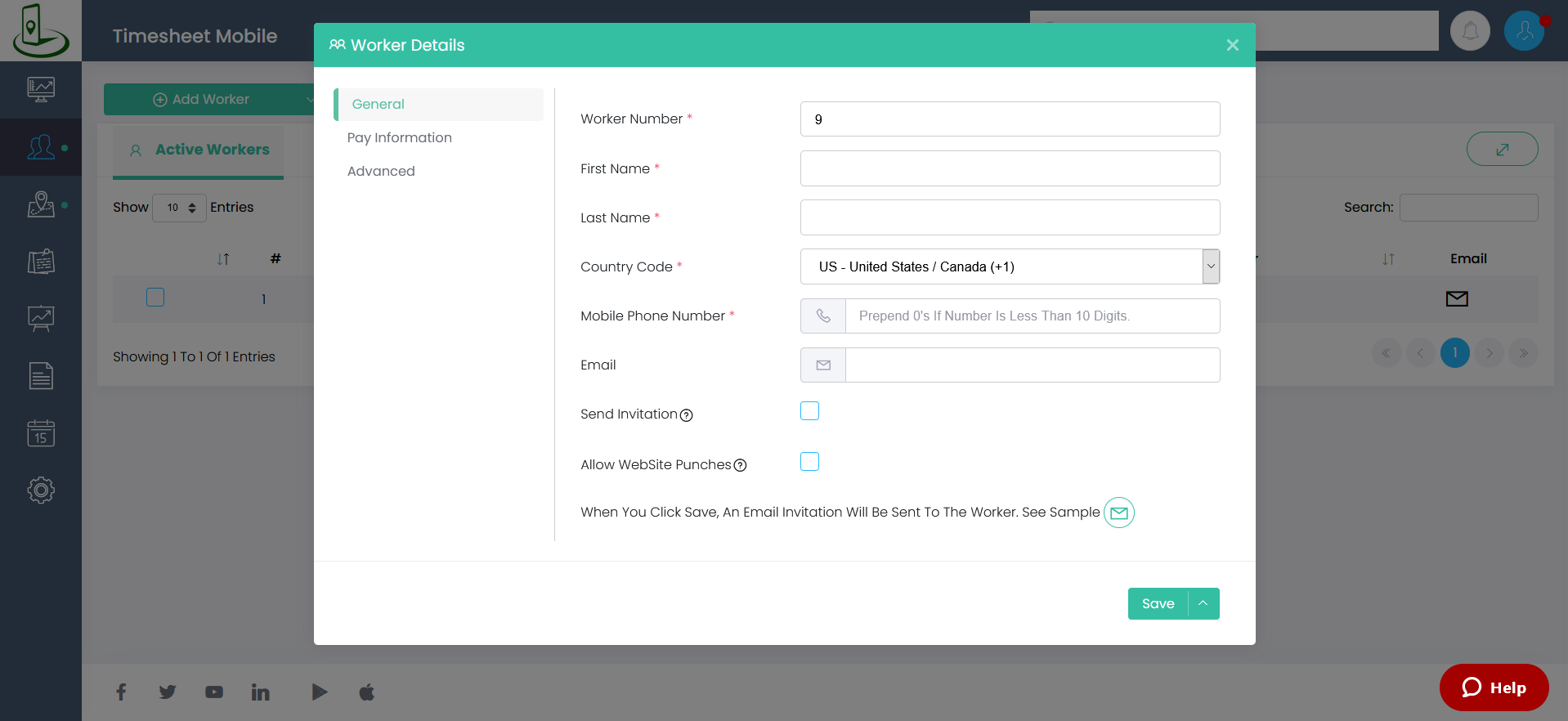 Worker name and mobile phone number are required fields. Email is required for administrators or manager level workers and all workers outside of the U.S. Other information can be updated as required by your needs. Be sure to check "Send Invitation" and the system will send the worker instructions on how to install the free app on their Android or iPhone.
2. Adding geofence work sites
Click

in the left navigation menu to access your geofence Sites.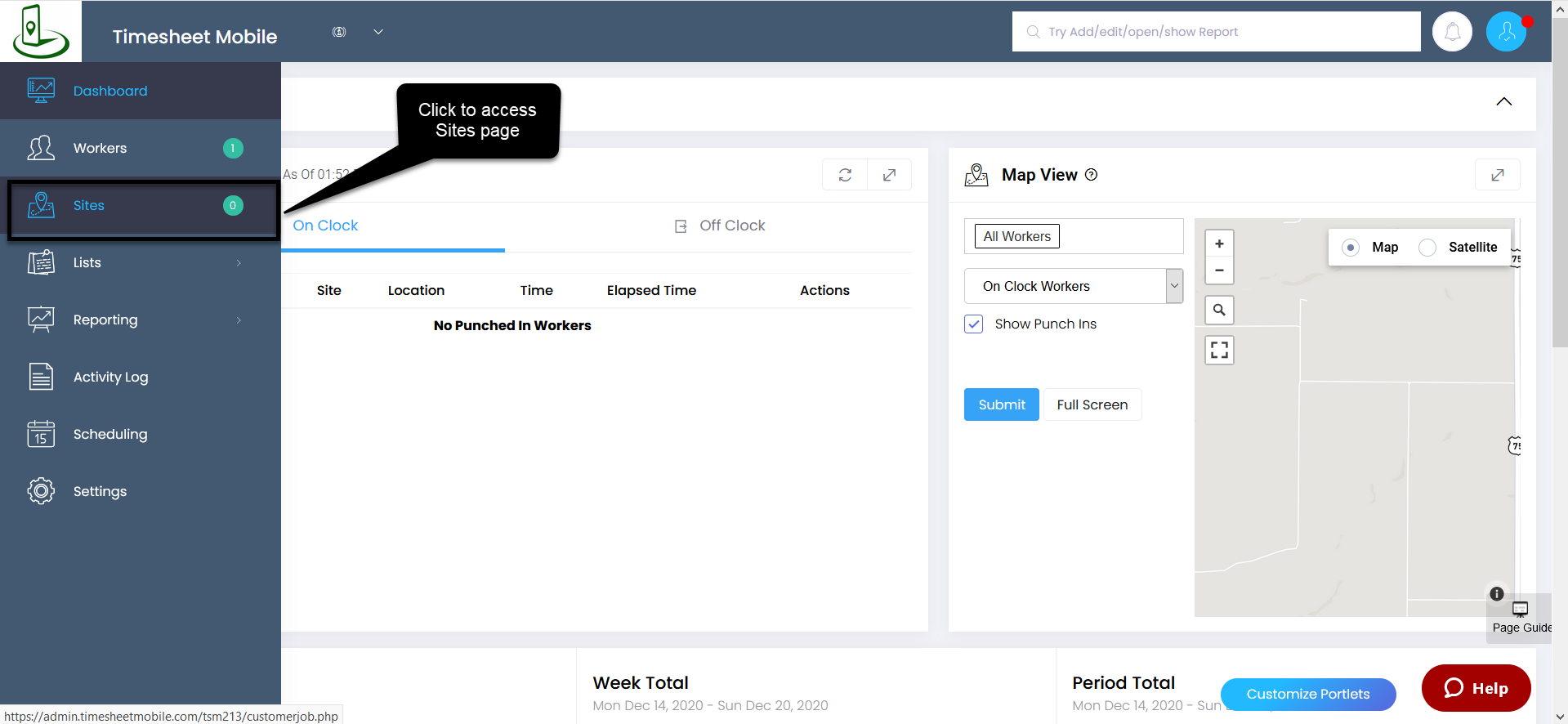 Click

to enter a new geofence work sites. If you have many sites to enter, you can use the .CSV file template to import.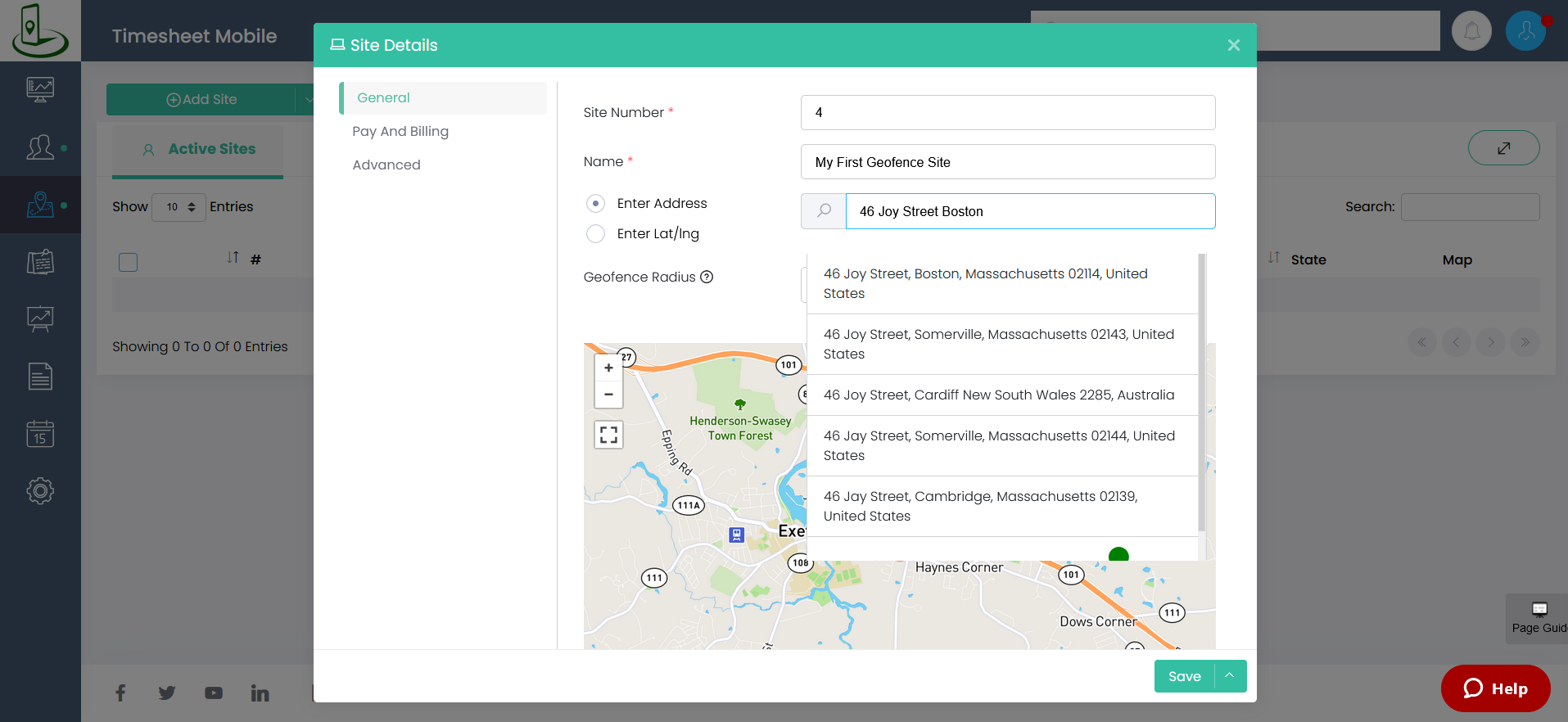 A name and address are required. As you start typing an address, a list of best matches for that address are displayed. In order to set the geofence, one of these places must be selected. If you do not find a match, scroll to the bottom to choose a different map service. If there is still no match, use a more general address - map services often cannot interpret suite, building or apartment number information. Finally, you can always adjust the location by dragging the pin within the map.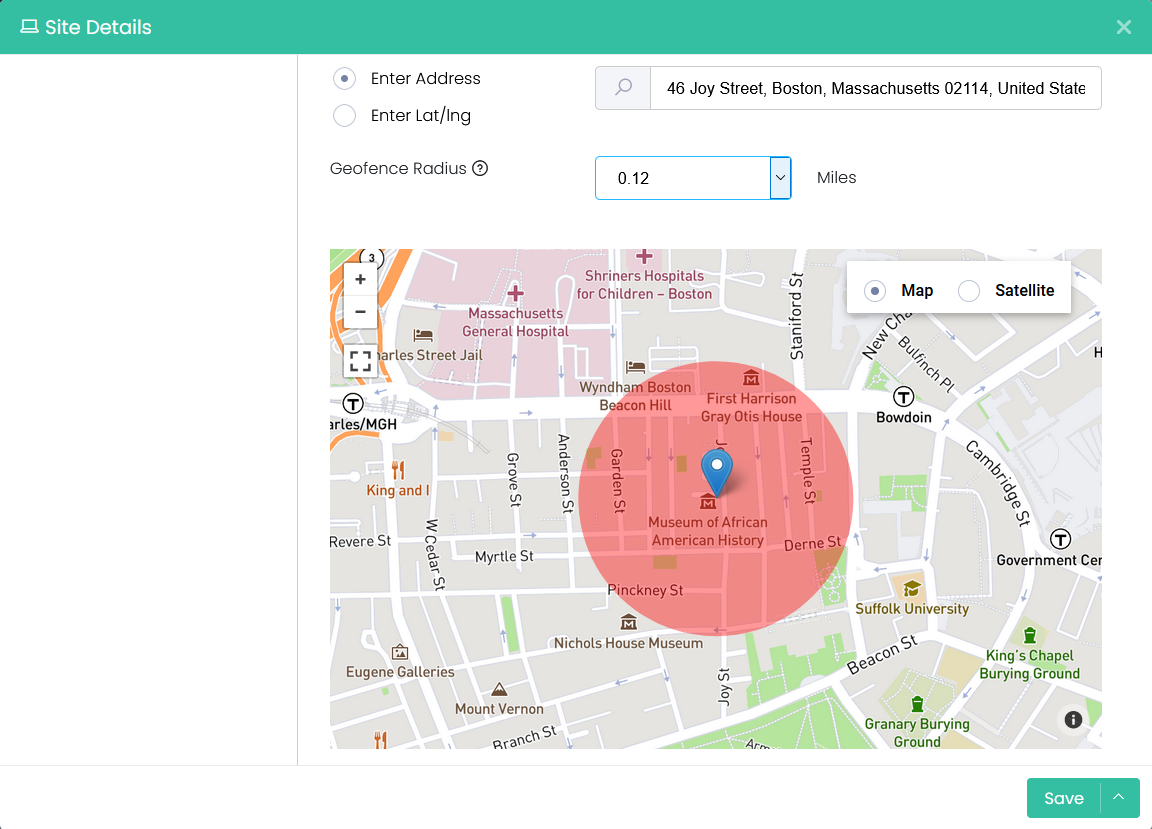 The geofence is used to remind workers that they are entering or leaving a designated work area and to start or stop work. A minimum radius is used to allow operation with the widest variety of smartphones without causing false notifications due to normal operation of the smartphone reported location.
3. Worker app registration and activity
From step 1, workers will receive an invitation to install the app on their smartphones. Here are more details on that process. Smartphone App Instructions. As soon as workers start working, their time, location and any other work related information such as notes or optional photograph or checklist will be visible on the web server.
4. View work activity
Worker activity is visible in the Dashboard where you can see who is currently working and their most recent location on a map.
Click

to access the Activity Log page. Here, you can view detailed information for each worker including timestamps and location info for each activity. The view can be filtered by date, worker, site and can include additional log information such as when workers left the site or diagnostic information.
5. Run Reports
Click

to access a variety of powerful reports.
Timesheets reports are the most often used report. This report is used to review time worked by workers for a specific period and used to process payroll. Powerful filtering allows for time to be viewed in many different manners.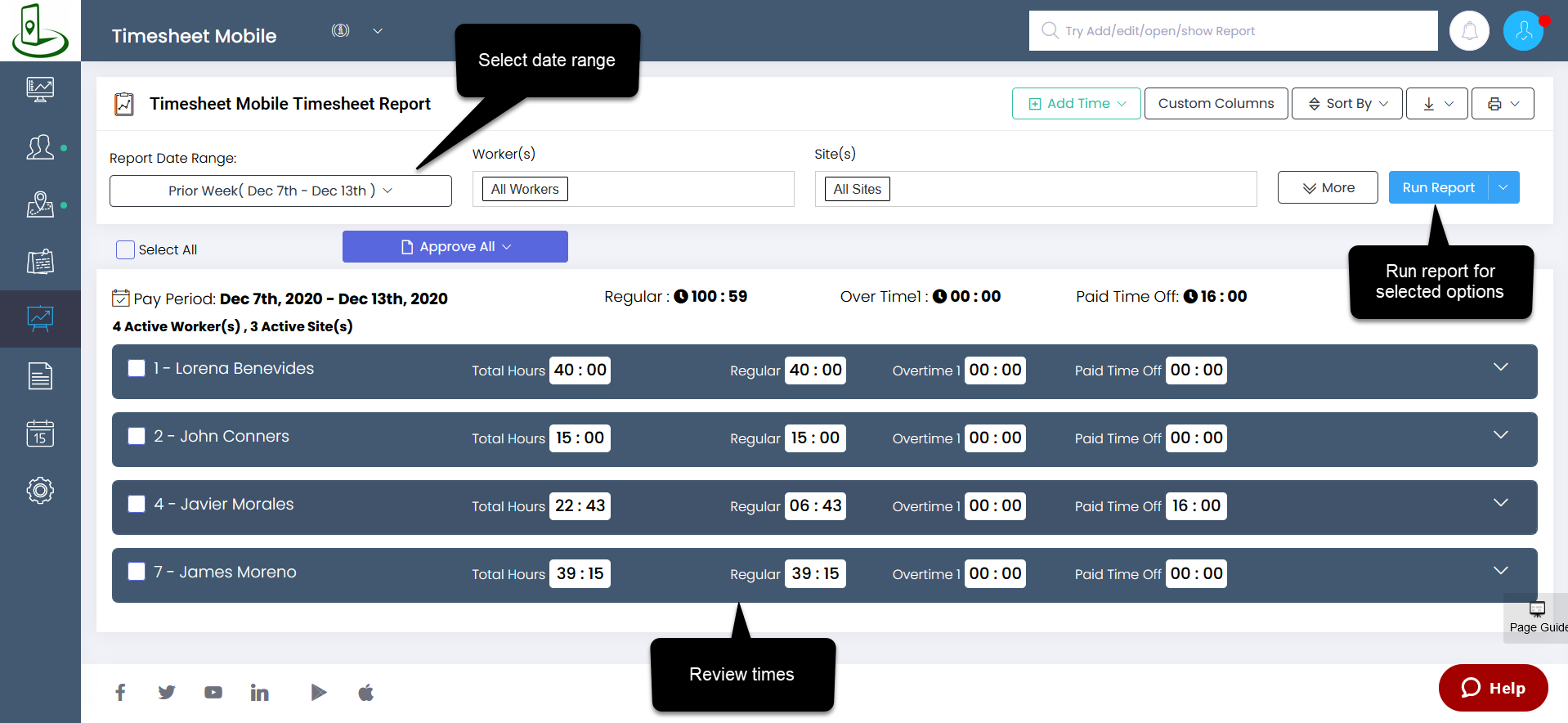 Depending on the features chosen during Quick Start you will see a number of other reports that you can access:
Approved Timesheets
Timeline/schedule Report
Site Time + Expense Report
These and many more powerful time and money saving features are included in Timesheet Mobile for no additional cost.