Settings for the Timesheet Mobile smartphone app are now linked to controlled from within your Timesheet Mobile account.  This now puts company administrators and managers in control of the Timesheet Mobile app user experience, removing any confusion resulting from local settings that differed from worker to worker in the field.  In addition to settings that were not user configurable - Restrict Scheduled Punch Ins, Break Prompt, Location Enforcement - settings to enable Punch Prompt, choose whether to display or hide customer:job and task lists, notes, mileage fields and Check Point are now configurable and synchronized from your company server to your workers smartphone apps.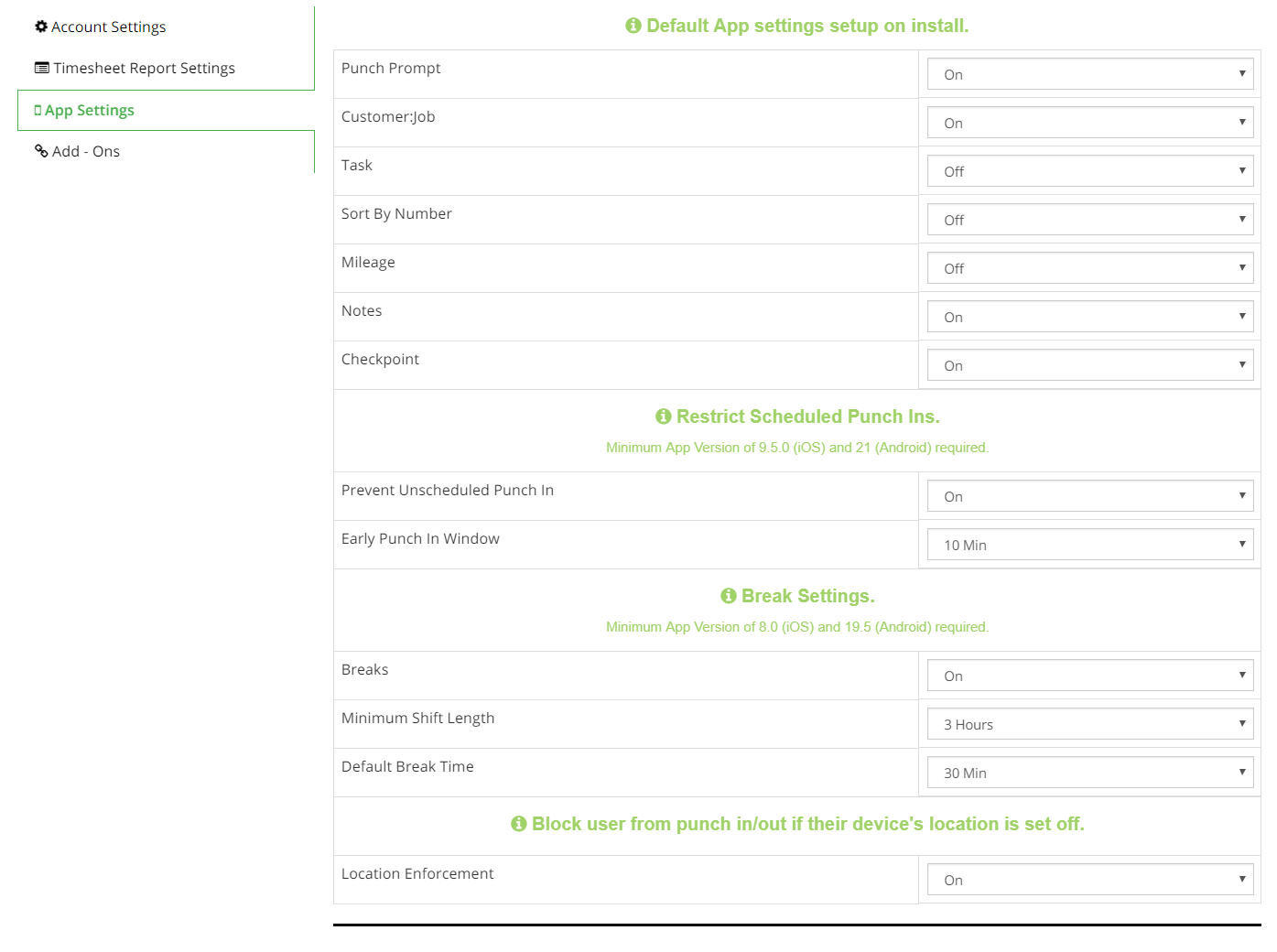 Now, when your workers install the Timesheet Mobile smartphone app, the app will start with the settings configured on the App Settings page of your account.  Anytime changes are made to theses settings, app users will receive a notification that the settings have been changed and are reminded to sync their app to update the settings.  The sync process will happen automatically every 2-6 hours when the worker is connected to a data network (3G/LTE or WiFi).
For workers with a prior version of the Timesheet Mobile app, settings are not automatically changed when updating to version 21.0 (Android) and 9.5.0 (iPhone).  For these users, local settings - Punch Prompt, Customer:Job, Task, Sort By Number, Mileage, Notes, Checkpoint - are preserved based on their current, local values.  A new item: "Update Settings" is displayed in the menu as shown below for Android and iPhone users. If the worker opts to update settings, the local settings will be linked to the server from that point forward as if the app were freshly installed.  Changes in settings for restricting unscheduled punches, break prompt and location enforce will be updated when the app syncs with the server either manually or every 6 hours.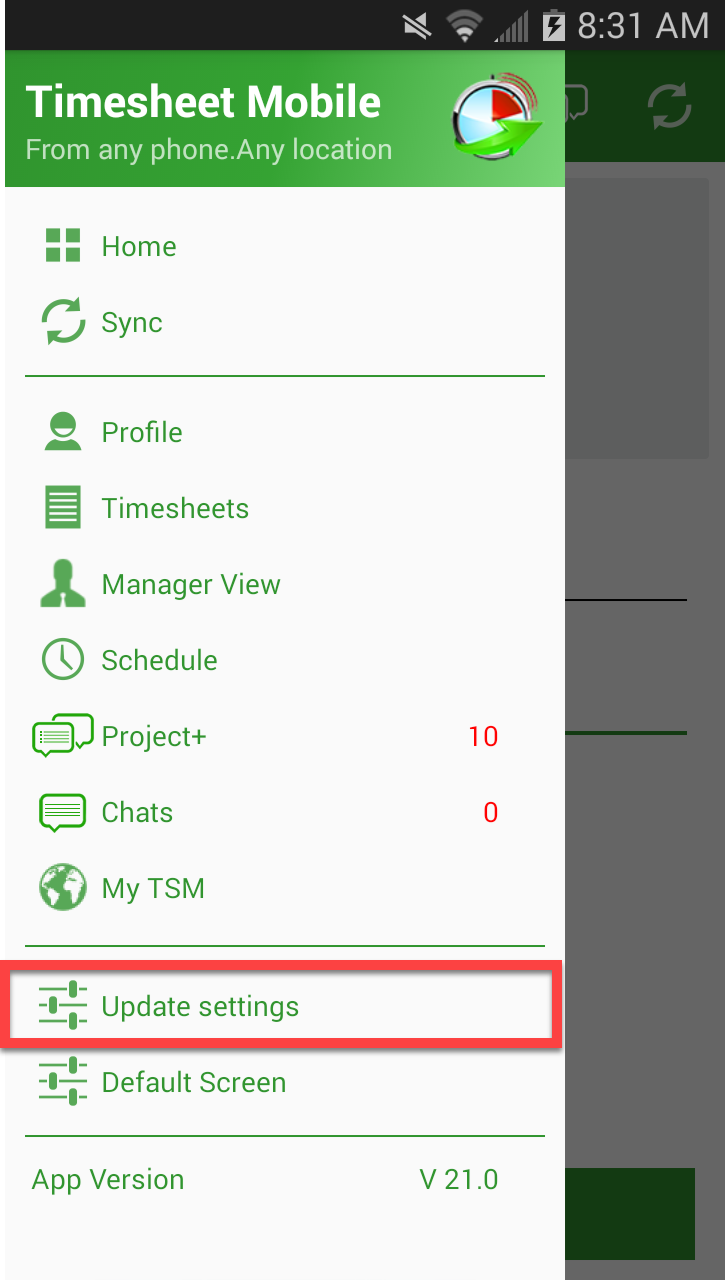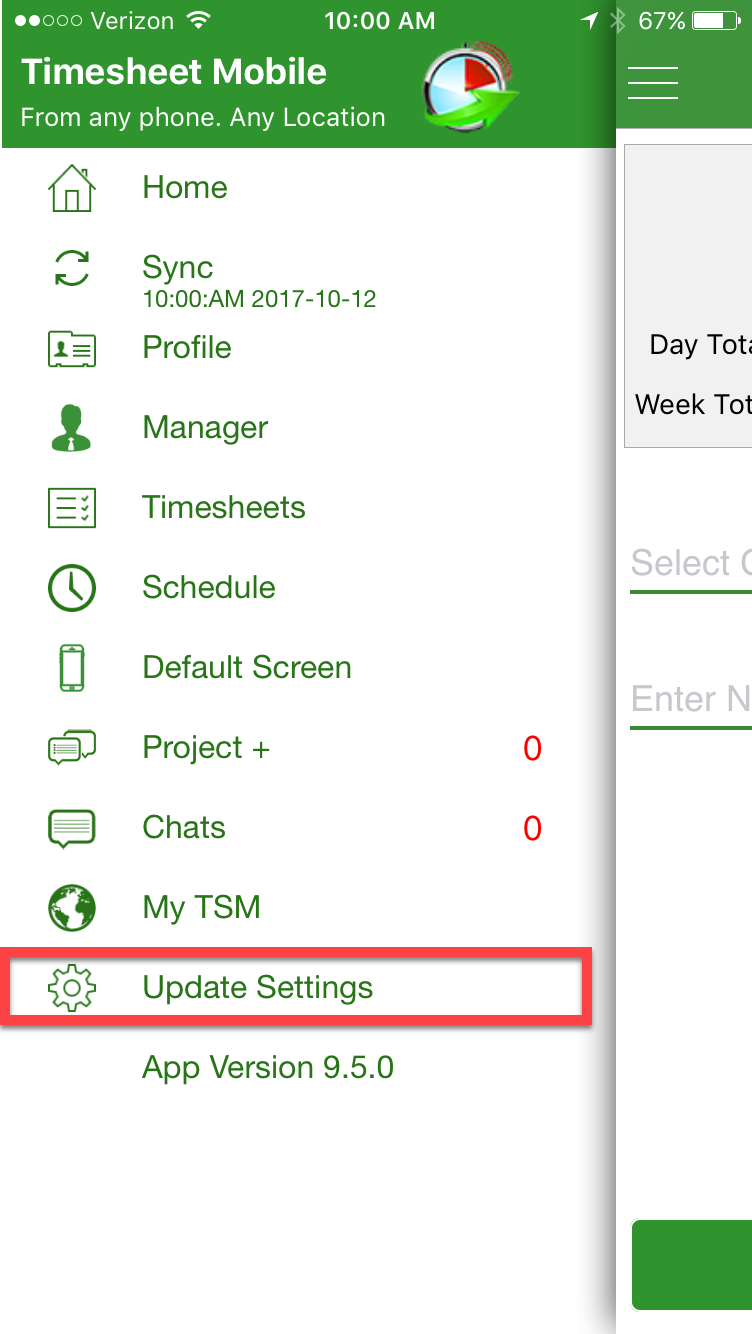 Now all of your workers will have the same experience, cannot disable important features like Punch Prompt and will be notified if changes are made.  Please contact Timesheet Mobile customer service if you have any questions about the new settings or other questions or comments.